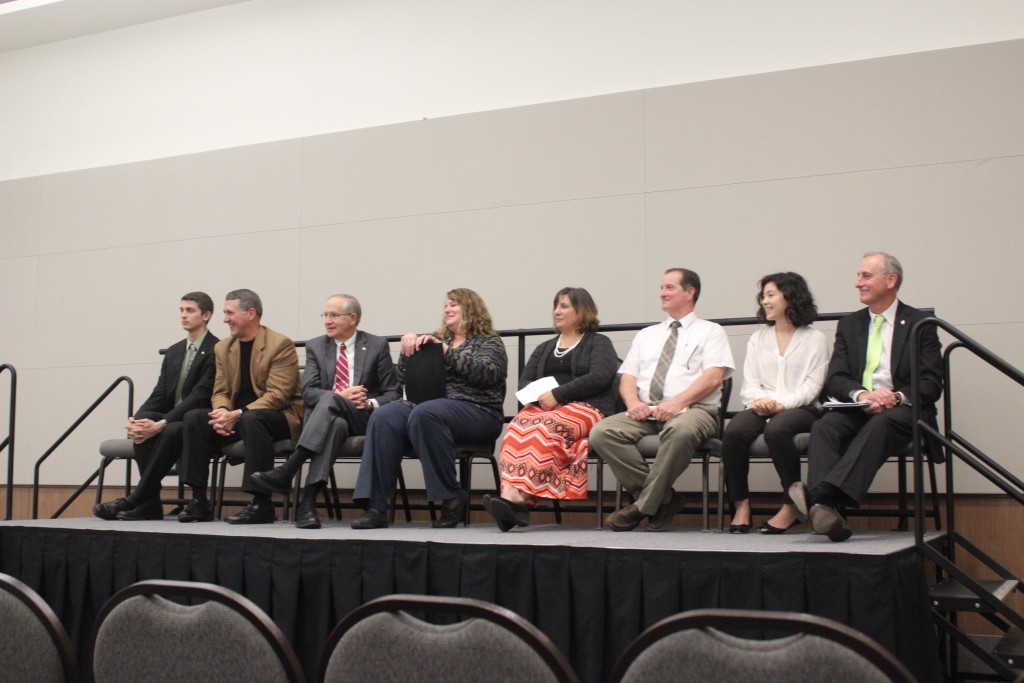 Ferris students had plenty of questions to ask of university leaders last week at Ferris' "State of the University" event.
In a half-full section of the University Center ballroom, students voiced their concerns to Ferris President David Eisler and a panel of university and student leaders during the Student Government-coordinated event.
Heated discussion began about an hour into the forum. One student's concern regarding the new "events with alcohol policy" for Greek organizations led to questions from several others about the validity of the policy and whether or not it could apply to other registered student organizations or Ferris athletic teams.
Angela Roman, director of the Center for Leadership, Activities and Career Services (CLACS), clarified that the policy applies to Greeks because they are the only campus organizations permitted to have alcohol at events and that the policy was updated simply to reflect Greek event standards at a national level.
"Greek organizations at Ferris are doing a fabulous job," Roman said. "We're not seeing any unsafe incidents recently, so we're really excited about that."
Business administration senior Dylan Carpenter and public relations senior Kaitlyn Patrick, both members of Ferris Greek organizations, pressed further. Carpenter cited a section of the policy that states a party can be considered a Greek event when 50 percent or 20 members of an organization are present with alcohol, suggesting RSOs and athletic teams could be having similar events.
"These organizations aren't held accountable the way Greek organizations are," Carpenter said.
Roman said there have been no allegations of unsafe behavior from the types of events Carpenter described and asked for any other Greek questions to be asked in private. Roman has been contacted by the Torch for comment.
Reduced student employment hours were a concern for Ferris music industry management senior Olivia Odette. She noted two reductions in budgeted work hours since she started working at CLACS as a sophomore and asked the panel why she and other students couldn't be budgeted more hours. Jerry Scoby, vice president for administration and finance, said reductions can be explained in part by a rising minimum wage, on its way to $9.25 an hour by 2018.
"Budgets have stayed flat for student wages, but minimum wage is going up in Michigan," Scoby said. "Departments have the same purchasing power, but because wages have gone up, they can't buy as many hours."
President Eisler added there are no plans to reduce the student employment budget and that the administration is hoping to increase the budget to accommodate the new minimum wage.
Carpenter also had concerns about a projected decrease in high school graduates and what affect that would have on Ferris.  "We're not of the idea that we're going to shrink," Eisler responded. "We believe we can grow in this environment."
Vice president for student affairs Janine Ward-Roofe said she and an enrollment task force has been working to make sure Ferris enrollment stays up.
In other action, Eisler responded to a question from Colleges Against Cancer vice president Cody Wise that the university currently has no plan to make Ferris a smoke-free campus. Chief technology officer John Urbanick also announced the return of a "classifieds" section to MyFSU later this academic year.