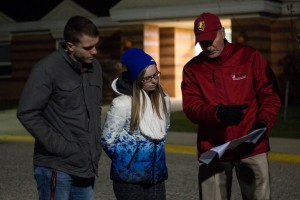 Student safety has proven to be a high priority for Ferris as several campus leaders took a frigid walk across all of campus last week to assess night lighting.
Ferris President David Eisler put it simply, "The objective is to find spots that are dark."
The group started out at 9 p.m. last Monday from the West Campus Community Center and from there made their way through campus.
Along with Eisler, the group consisted of Student Government representatives Madison Hawley and Keegan Murphy as well as associate vice president for the the Physical Plant, Mike Hughes and vice president of administration and finance, Jerry Scoby.
Ferris' director of public safety, Bruce Borkovich, was included in the night survey but was called away on an emergency.  Murphy, director of public relations for Student Government, took the time with campus leaders to not only assess campus safety, but to address key issues related to university life such as the budget, emergency action plans and new campus projects.
"I was overall very pleased with the experience," Murphy said. "It was a good opportunity to get some important questions answered and make sure the campus is well lit."
Murphy went on to say he is impressed with the grounds crew for maintaining campus the way it is.
Overall, the group found just one light out. The issue was promised to be addressed immediately.
While visible light was the main focus of the project, the group also focused on ensuring no student would have a problem finding an emergency phone on campus.
Student feedback or issues related to campus safety can be reported to DPS at 231-591-5000.