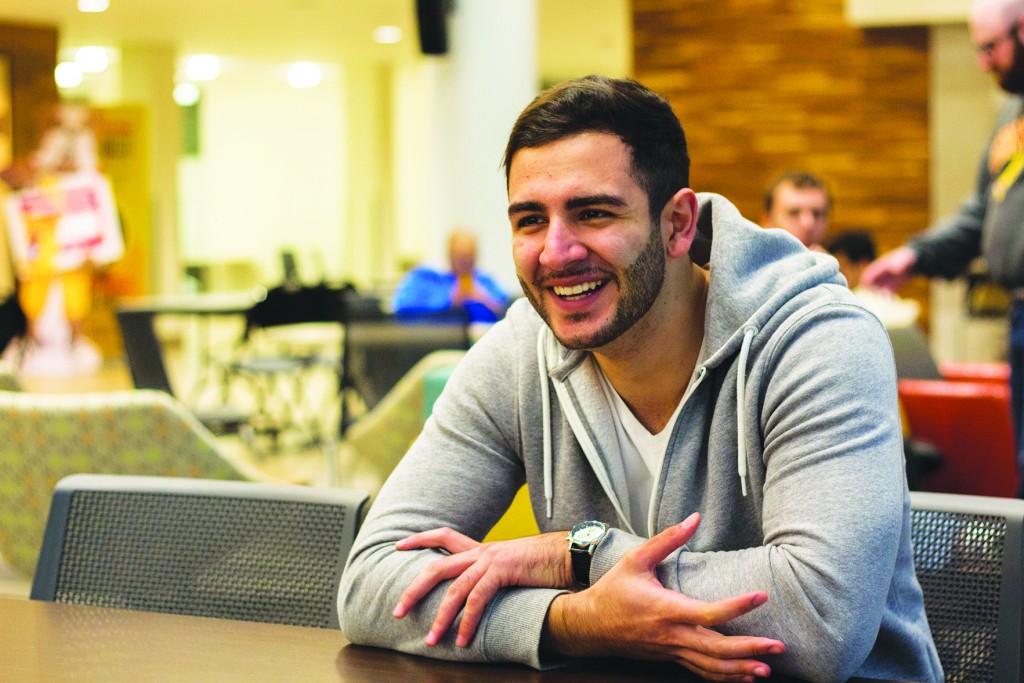 Elias Arshiya (Sabaghi) is a long way from home, but he's made himself a home here at Ferris.
Arshiya is a German student who has come to Ferris for a semester through the exchange program. He was born in Iran but moved to Germany with his parents when he was two. Arshiya studies at Rhine-Waal University of Applied Sciences, one of Ferris' partner universities in Germany.
He is currently studying international business and social sciences and is graduating next year. He will be heading back to Germany at the end of the fall semester.
"I love my program; international business is the only thing I could imagine studying," said Arshiya, who later plans on going to grad school and then going into some type of sales with his degree in international business.
"I think Ferris is a very nice place," he said. "It's small, but it has its positive aspects. The people are very cool to each other and the American culture is very open. It's a nice place to study."
Arshiya said there are some similarities between Germany and the U.S., since both countries are westernized, but you really have to see the differences for yourself to truly take them in.
"That's the reason you have to go abroad," he said. "Some things you can't explain, you have to experience it for yourself. [Studying abroad] improves yourself as a human being, who you are, what you see and think."
The main difference between Rhine-Waal and Ferris, or really any German and U.S. universities are the exams, according to Arshiya.
"In Germany, it's really performance-based," he said. "We only write one exam for every subject, which is the final grade. I think both have their advantages and disadvantages."
Arshiya has enjoyed his time here overall and it's been extremely beneficial for him to study abroad. His advice for students (German and American) is to go abroad, because it's such a valuable experience to have.
"It's not easy," he said. "There are a lot of things you have to manage, but by doing all this, you learn how to better manage yourself. It's something you learn that's not learned from books. You have to get a visa, you have to get an apartment in a different country and you get to know new people of different backgrounds and cultures. I think if you know this, you have a huge advantage over people who don't go abroad."
Arshiya, however, is counting down the days until he can see his girlfriend and eat his favorite German fast food.