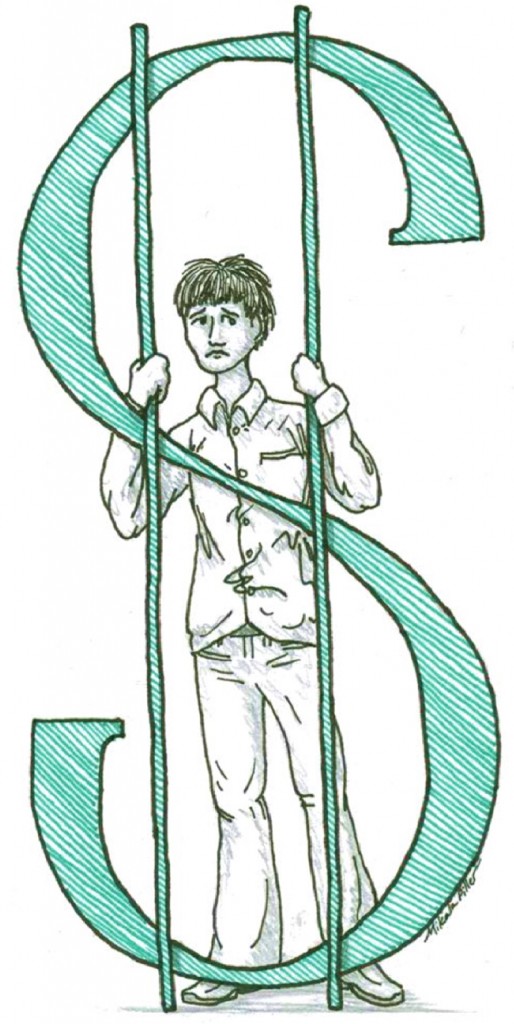 Ferris State University ranks with the second highest average student debt among Michigan universities, just behind Michigan Tech.
The average student debt for the 2013 – 2014 academic year at FSU was $35,720, a figure that named FSU as a high-student-debt university in the Institute for College Access and Success' publication "Student Debt and the Class of 2014."
Ferris has taken steps to help keep costs low for students. Among these are increasing the financial understanding of students, constraining costs, doubling the scholarship base available to students and reducing the time to graduation.
"I really like what Ferris is trying to do, where it's trying to be a career college," said Ferris electronics engineering technology junior Tim McManus. "It's good because in a lot of ways it's what employers want, even though not a lot of them realize that's what they want. So I think that Ferris is one of the bigger bangs for your buck."
Ferris social work junior Anya Miller said she uses financial aid from filing her Free Application for Federal Student Aid (FAFSA) every year. She also applies for scholarships to help keep her debt down.
"I think now my debt is around $13,000, but when I graduate it might be around $25,000," said Miller. "I'm going to be getting a master's, so that's more school and more debt. However, I never really got help through the university when I was going about paying for college. I just got my financial aid and kept applying for scholarships. I think they could do a better job of making students aware of what financial options are available."
Students like McManus and Miller think Ferris could add more value to getting a degree by providing more focus on financial planning information, degree counseling and career placement.
"There are a lot of people who come to college and don't know what they're going to do or don't have the maturity to know what they're good at," said McManus. "And on top of this, the fact is that people are leaving with ridiculous debt, even more money than they're going to make in their first year on the job. And it's not like people are going to make money and just pay their loans. They have to pay for room and board and all that good stuff."
For students with less marketable degrees, another problem arises with students accumulating debt they're unable to pay. Sometimes they're unable to use their degree and can remain underemployed, according McManus. "I think professors want the best for students, 'wink, wink,' but the university has to keep the lights on," said McManus. "Keeping the doors open costs money. There's no magic bullet to fix the situation."
Some courses require students to take on additional costs to complete. These courses can also be required for the degree students are working toward.
Ferris automotive engineering technology junior Dakota Anderson said there's a required class for his degree called automotive service requiring students to buy tools to complete the class.
"It's a six-credit class. That's a lot of money," said Anderson. "They also require $7,000 in tools in order to do it, and you can't take the class without the tools. I know kids who are borrowing up to $10,000 to get the tools to take this class."
Although living on campus may lend itself toward more success for incoming freshmen, the price tag can still be high for some students.
"I had to borrow $14,000 for this school year," said Ferris graphic design freshman Jessica Balcazar. "But that includes my living expenses on campus, my meals and my classes."
Ferris' president David Eisler addressed the student debt problem in a statement his office issued in early November, saying overall student debt has declined an average of $1,600 during the 2013 – 2014 academic year from the previous year.
Eisler also said work had been done by Ferris to bring the net cost of education in line with other public universities in the state.
Last year saw record donations to the university, with Ferris bringing in $12 million along with contributions to student scholarships. Speaking of scholarships, the FSU board of trustees voted to invest Ferris' recent surprise $18.6 million refund into the Ferris Foundation with the goal to grow the Foundation's fund to $36 million by 2022.