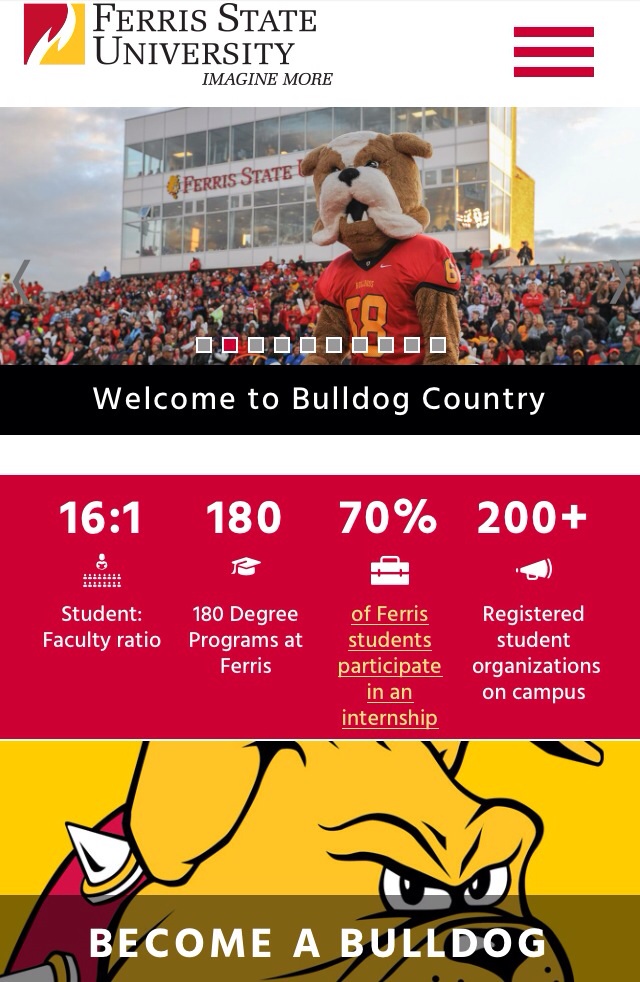 Those accustomed to the look of ferris.edu were in for a surprise last week when Ferris launched a bold, streamlined new web design.
Last week, Ferris launched the home, financial aid and admissions pages of a new ferris.edu.
Ferris web content manager Ted Halm describes ferris.edu we're all used to as a glorified file cabinet, hosting more than 300,000 files. Halm said the site, launched just over five years ago, was difficult to navigate.
About a year ago, Halm, with the help of father-son Ferris web developers Dale and Paul Hobart, began collaborating with a consulting firm on what would become a mobile, ADA accessible and recruitment-friendly new website.
The development team surveyed touring students and worked with the President's Office and focus groups of current students. The site now adapts to any screen size and can be used with assistive technology to aid the blind.
"The site is a complete mobile revolution for Ferris," Halm said. "To build something that is mobile, ADA compliant and visual was a big challenge."
Visual indeed. The site pops with large photos and quick facts to attract potential students.
"To better serve recruitment efforts, the main audience for the homepage is prospective students," he said.
To appeal to all site-goers, the new homepage also allows a choice in the top-right corner whether you are a student, faculty or staff member, alumni, donor, family member or visitor. Once the site is fully formed, these options will allow quicker navigation based on the type of viewer.
Halm said during research, it was found that 70 percent of Ferris students were accessing MyFSU through the Ferris homepage, so now the icon appears more prominently. Ferris' social media and News Services content is also integrated into the homepage.
At only about 10 percent completion, there is still more than a year of work ahead, according to Halm. All the while, about 140 users contribute content to the site that Halm and his team have to check and edit daily.
"The expansion of the mobile market is something we want to keep up with," he said. "It's been a very positive experience."