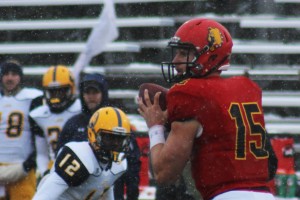 Senior quarterback Jason Vander Laan has earned his second straight offensive GLIAC Player of the Year Award and should be a frontrunner for the Harlon Hill Trophy this year.
The all-american won this Heisman equivalent trophy in 2014 after leading a talented Ferris team to an undefeated regular season and GLIAC championship. He has done the same this year while having his best season throwing the ball.
Vander Laan is No. 1 in the nation in the points responsible for with 276, and No. 7 in both passer efficiency and completion percentage with 159.1 and .644 respectively.
In addition he is No. 6 in rushing yards regardless of position and No. 1 amongst quarterbacks with 1,416 rushing yards.
"If he doesn't win it [Harlon Hill Trophy], then the right person didn't win it," Ferris head coach Tony Annese said.
Vander Laan is humble when it comes to his individual accolades but the whole country has begun to take notice of the greatest rushing quarterback in the land since he broke the NCAA record for career quarterback rushing yards regardless of division on Oct. 17 against Ohio Dominican.
He was interviewed on ESPN's SportsCenter over the phone after the game.
On Friday Nov. 20 the 38 Harlon Hill candidates were announced from the four super regions. Six of these players are in the GLIAC. On Monday Nov. 30, that number will be reduced to eight as two players are selected from each region.
The winner of the 2015 Harlon Hill Trophy will be announced via webcast on Dec. 18 at 2 p.m. The trophy will be awarded at a luncheon on the University of North Alabama campus on Jan. 8, 2016.
With many players in contention, the Harlon Hill Trophy could be decided by whose team has the most post-season success.
The only other candidate with an undefeated team is Shepherd University junior quarterback Jeff Ziemba. Shepherd is the No. 1 seed in super region one.
Ziemba is also the only quarterback candidate to have thrown fewer interceptions than Vander Laan but has far less all-purpose yards. Ziemba has thrown two interceptions and gained 2,810 yards running and passing compared to Vander Laan's five interceptions and 3,760 yards.
Vander Laan will look to get his team past the second round of the playoffs this weekend as Ferris State takes on GLIAC rival Grand Valley State on Nov. 28 at noon in Big Rapids.
Last year, the Bulldogs were knocked out in the same round by Ohio Domincan at Top Taggart Field.