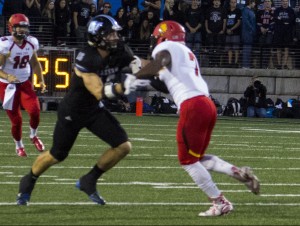 The Ferris State football team will take on Grand Valley State this Saturday, Nov. 28 in the second round of the NCAA Div. 2 Playoffs.
The No. 2 seed Bulldogs beat the Texas A&M Commerce Lions by a score of 48-30 last Saturday on a snowy day in Big Rapids.
Ferris will be looking for a similar result against GVSU this weekend. The Dawgs beat Grand Valley on the road in a 61-24 whooping earlier this season. This time the Lakers will be visiting the Bulldogs in what is sure to be a battle on the gridiron. GVSU beat the undefeated Ashland Eagles last Saturday in order to get a chance at revenge against Ferris State.
Both teams have Harlon Hill candidate quarterbacks at the helm in Ferris State's Jason Vander Laan and Grand Valley State's Bart Williams.
The game will kick-off at noon on Saturday at Top Taggart Field in Big Rapids, Mich.
Here is a breakdown of the matchup between the two teams coming into the game.
Season Totals:
Record:
FSU: 11-0
GVSU: 10-2
D2Football.com Ranking:
FSU: No. 1
GVSU: No. 14
AFCA Coaches Poll Ranking:
FSU: No. 2
GVSU: No. 12
Total Points For:
FSU: 501
GVSU: 475
Total Points Against:
FSU: 231
GVSU: 327
Points Per Game:
FSU: 45.5
GVSU: 39.6
Points Allowed Per Game:
FSU: 21
GVSU: 27.2
Total Yards Per Game:
FSU: 522.3
GVSU: 457.3
Total Yards Against Per Game:
FSU: 288.2
GVSU: 403.3
Passing Yards Per Game:
FSU: 243.1
GVSU: 282.2
Rushing Yards Per Game:
FSU: 279.2
GVSU: 175.1
Passing Yards Against Per Game:
FSU: 211.3
GVSU: 279.8
Rushing Yards Against Per Game:
FSU: 76.9
GVSU: 123.5
Leading Rusher:
FSU: Jason Vander Laan (1,416 yards)
GVSU: Kirk Spencer (1,071 yards)
Leading Receiver(s):
FSU: Antonio Agurs (59 Rec, 567 yards)
Jake Lampman (47 Rec, 680 yards)
GVSU: Matt Williams (55 Rec, 963 yards)
Leading Passer:
FSU: Jason Vander Laan (186-280, 2344 yards)
GVSU: Bart Williams (219-377, 3355 yards)
Leading Tackler:
FSU: Justin Zimmer (76)
GVSU: David Talley (105)