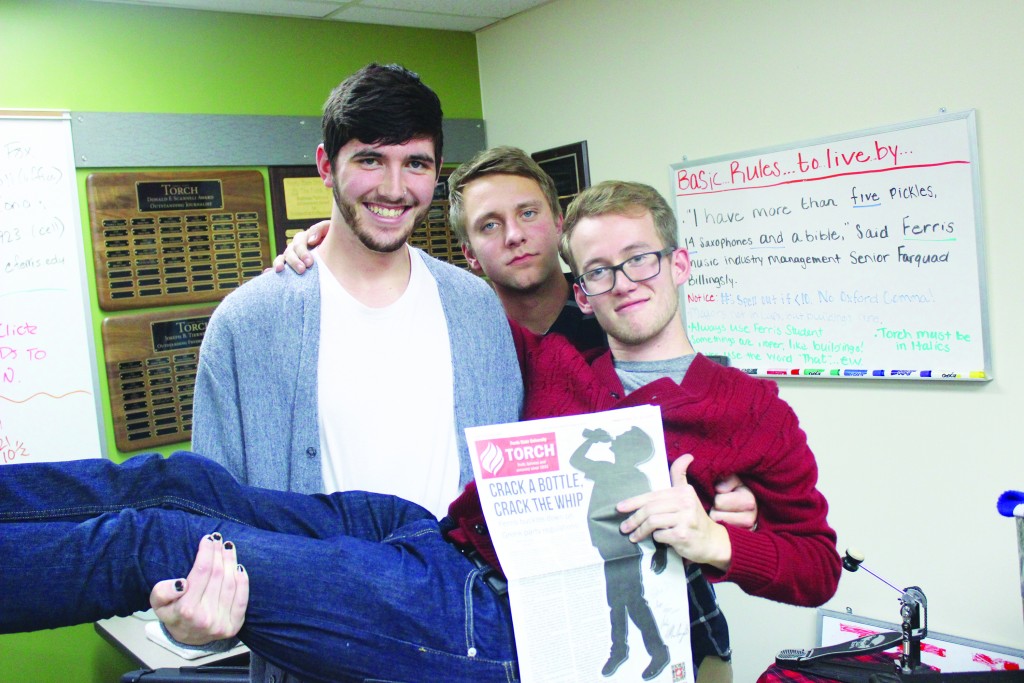 If you're looking for some fresh tunes to tap your toes to, Beach Thief has got you covered.
Beach Thief is an indie rock/garage pop band consisting of three Ferris music industry management juniors: Jordan McNaughton, Shawn White and Josh Olszewski.
The group met around their freshman and sophomore years and decided to form a band, since all three played instruments and enjoyed the same genre of music.
"It just happens that Jordan play drums, Shawn plays guitar and I play the bass, so we thought why not? Let's see what happens," said Olszewski.
They finalized the band membership over a viewing of a 1986 film, according to White.
"We all watched The Labyrinth (starring David Bowie) one night, and it was after that, we were like yeah, we're a band," said White.  McNaughton came up with Beach Thief as a name on a trip to Ludington with a group of friends.
"It was a great day and we were hanging out on the beach," said McNaughton. "We decided to go out to the pier, and one of our friends was very concerned about our stuff on the beach. You know, you have your towels, and food and phones and such. Our friend was like 'I've got to go hide my phone, so no one takes it,' and I said, 'A beach thief! The worst kind of criminal.'"  The name Mantrap was also considered, but unfortunately is already occupied by a cover band that plays '70s music.
The Hawaiian pizza (specifically from Pizza King) loving trio has been writing, rocking out their original music and making an image for themselves by playing gigs in local bars and restaurants and at a few campus events.
In fact, the band's craziest moment onstage so far has taken place at The Pub at Pizza King, where White had his homemade robot helmet taken by a random girl while he was playing.
White wears said robot helmet, which consists of a cardboard box, tinfoil, red duct tape and some foam usually during the closing song of their set.
"She was at a different level than everyone else, for sure," said White. "I thought she was just going to get up on the stage and dance, but she just took the robot head off of me and walked away with it."
Other than that, Beach Thief has been rocking the Big Rapids scene and working on some new music they plan to release soon.
Beach Thief's debut album, "Mom, Can I Smoke Cigarettes?" is available on Spotify and at beachthief.bandcamp.com.
For more information about Beach Thief, visit their Facebook page at facebook.com/beachthiefmusic, and check out their appearance on "Torch Jams" by clicking here.