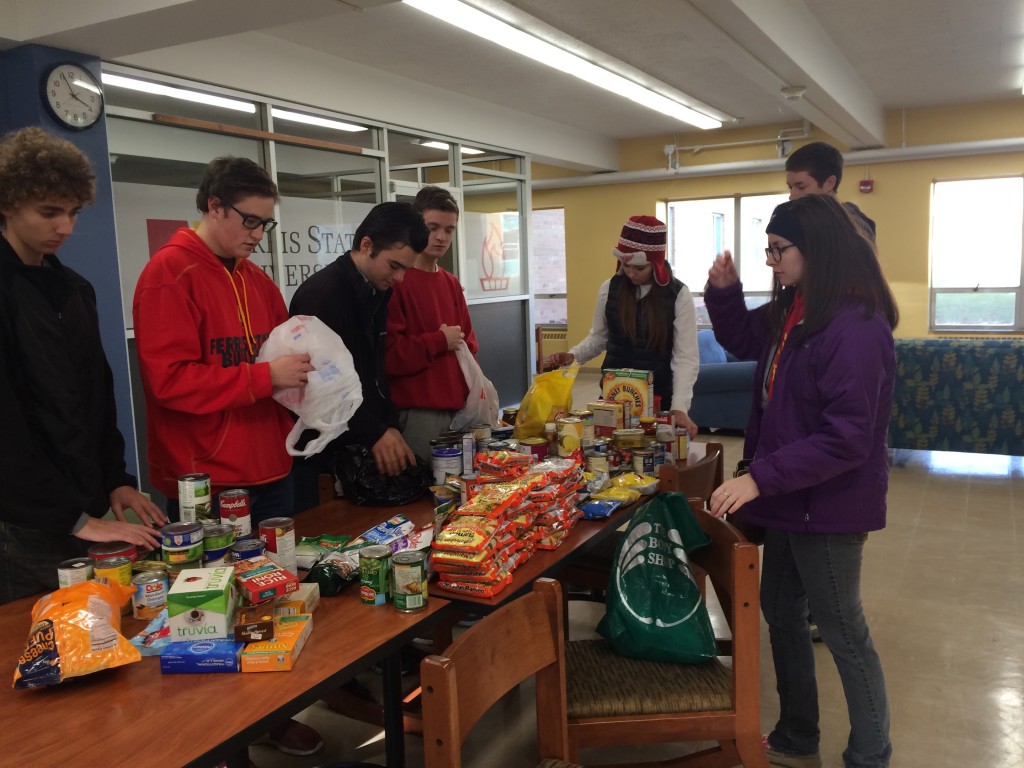 About one in nine people worldwide are hungry. That's more than two and a half times the population of the United States.
This is just one of the startling facts that students were read during World Vision's 30 Hour Famine, which began Nov. 13 and concluded Nov. 14. The honors students who participated in the event agreed not to eat anything from 11 a.m. Friday until 5 p.m. on Saturday.
There were 53 Ferris students taking part in the fast and each participant was also required to contribute a minimum of $35 in donations. Some brought more though, coming to a grand total of $1,872.
"They see all the numbers," said Ferris pre-optometry junior and famine co-director Rachel Bering. "But having them fast actually helps put it in perspective and gives them a little bit more of a personal experience. A little bit more insight into the issue itself."
The participants were broken into five "tribes," inciting a playful competition between them during the day's activities.
The night kicked off at Brophy McNerney Hall with some light games and activities to get everybody acquainted and excited about what they were doing. The various tribes were given different points for a number of games like The Human Knot and Pictionary. Following these activities, everyone settled in to watch the movie "Madagascar."
"I thought the games and movie were a good way to pass the time and get our mind off the hunger," said Ferris pre-pharmacy freshman Cassandra Kolka. "However, I wish the movie were related to the issue of hunger around the world and not something random like 'Madagascar.'"
Bright and early the next morning the hungry participants checked in at the Big Rapids Salvation Army and each tribe was assigned some kind of service activity. Volunteers moved boxes, cleaned and set up Christmas trees for the season.
"All I did was put up a Christmas tree," said Kolka. "But like the man who runs the Big Rapids Salvation Army said, 'it may not seem like you did a lot, but it makes a huge difference to us.'"
After volunteering in the morning, participants were given a short recess, providing the opportunity to sleep, study or go to the Ferris football game.
The last leg of service work to be completed was the "Trading Up" competition, where each tribe was tasked with collecting as many non-perishable food items as possible within an hour and a half. The goal was to beat the previous year's 400 item collection.
This year's students went far above and beyond that, collecting more than 1,400 items to be donated to Manna Pantry in Big Rapids. The winning tribe alone collected 500 items.
Ferris pre-optometry junior O'Malley Bosanic, one of the directors of the event, thought the drive was a good way to get students fired up and thinking about more than just fulfilling required service hours.
"It's just an easy way for them to get hours," Bosanic said. "That's how they see it, but once they start doing the event and reading and participating I think they realize what kind of impact they have, not only on our local community, but on the worldwide community as well."
Upon completion of the 30-hour fast, participants were given pizza and juice.
"I don't think people understand how privileged we are," said Ferris English sophomore and next year's famine director Shelby Klumpp. "It just makes you take a step back and look at the world and think 'wow, I'm taking my Rock passes for granted'