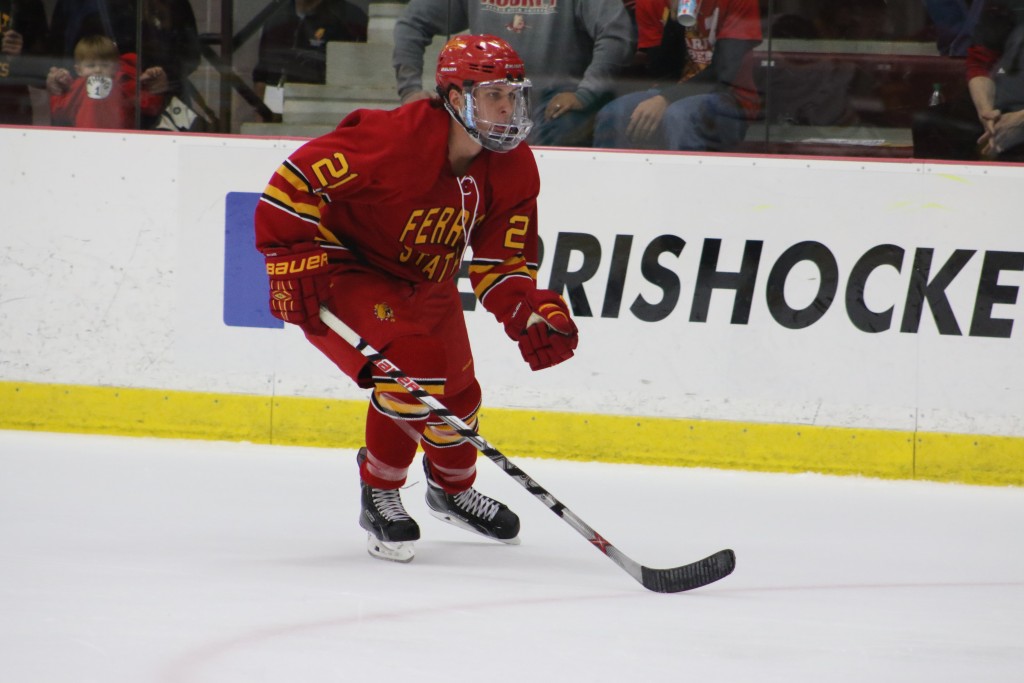 The Ferris State hockey team has seen several freshmen step up to help get the Bulldogs started on the right track this season, and Corey Mackin leads the pack for the young guys.
Mackin, the 5-foot-8, 166-pound forward from Philadelphia, Pa. is the co-leader in total goals scored so far this season along with juniors Kyle Schempp and Chad McDonald with five.
The Philly native is no stranger to being a scoring leader, as he lead the British Columbia Hockey League (BCHL) with 50 goals and 54 assists for a total of 104 points in the 2014-2015 season.
Mackin does more than just put the puck in the net, though, as he is second on his team when it comes to assists with eight. Mackin credits his successes to those who surround him, such as people like Ferris State head coach Bob Daniels and his Bulldog brothers on the ice.
"Coach Daniels is continuing to help me every day," Mackin said. "My line mates Drew Dorantes and Tyler Andrew are helping on ice so much. They battle hard and I kind of find open areas on the ice and we all move the puck well."
The humble Mackin said that his teammates make life a lot easier on him. He says that the upperclassmen especially make life easier, both on and off the ice.
"All the older guys help out us younger guys a lot, with things other than hockey, too," Mackin said." To name a few, Schempp, Simon Denis, Gerald Mayhew, and McDonald help a lot with how to carry yourself throughout the game as well as all around different aspects of the game."
As for preparation, Mackin says that he takes a nap and a shower before every game, and then goes to the rink where he takes the time to tape up his game stick and focus on getting his mind right before warm-ups. Whatever else it is that he's doing, it's working.
As for Mackin, it isn't difficult to buy into what Coach Daniels has done and continues to do for the Bulldog hockey program. "Coach Daniels has a lot of history, not only within Ferris Hockey, but with the NCAA, and he helps me out a lot. He knows what it takes to get to the big stages in the tournament," Mackin said. "As a team, we are looking to try and get there this season."
Mackin and the Bulldogs are 6-6-4 overall on the season so far and will be in Big Rapids this weekend when they take on Bemidji State in Ewigleben Ice Arena. The weekend series with the Beavers begins at 7:07 p.m. on Friday, Dec. 4 with a game at the same time on Saturday night.