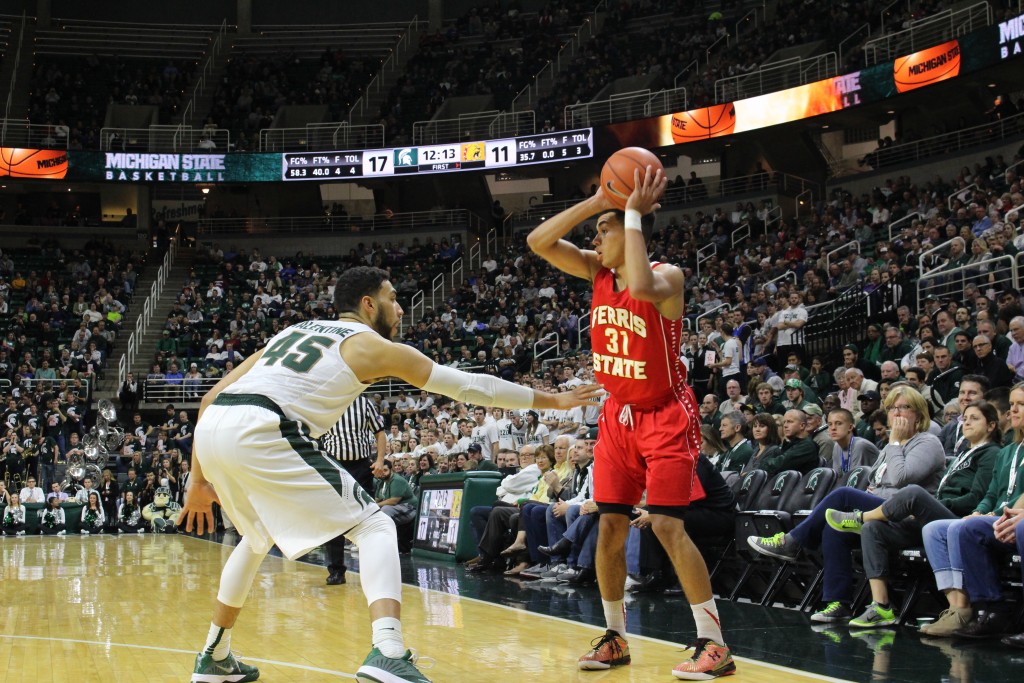 The undefeated Ferris basketball team looks to keep its streak alive against Lake Erie and undefeated GLIAC opponent Ashland after beating Wisconsin-Parkside 84-58 last weekend.
Last year, the Bulldogs dropped three of their first four games. However, they have won their first six this year by over 10
points behind impressive play from senior center Jared Stolicker.
Stolicker leads the team in points and rebounds averaging 19 points and 9.5 boards per game. He also leads the GLIAC in field goals made and blocks with 49 and 22 respectively.
Senior forward Josh Fleming is in the top five along with Stolicker in scoring in the GLIAC. Fleming has done much of his damage from behind the arc shooting 49.5 percent.
He will look to keep up his hot shooting at home first against the Lake Erie Storm, which has only allowed 25 percent on opponent three-point attempts.
Last year, Ferris stormed out Lake Erie 83-62. However, the Storm is rolling having won three of their last four games including an overtime victory against Seton Hill.
After that Thursday matchup, the Bulldogs will tip off Saturday in their first in-conference action against the Ashland Eagles.
Ashland is undefeated and seeking redemption after losing both matchups last year against Ferris.
Eagle's junior Wendell Davis will challenge the Bulldogs as he leads the GLIAC in points and free throws made with 116 and 42. He averages 23.2 points per game and 84 percent from the charity stripe.
Ferris State will play Lake Erie on Thursday, Dec. 3 at 8 p.m. and Ashland on Saturday, Dec. 5 at 5 p.m.. Both games will be played at the Big Rapids High School.