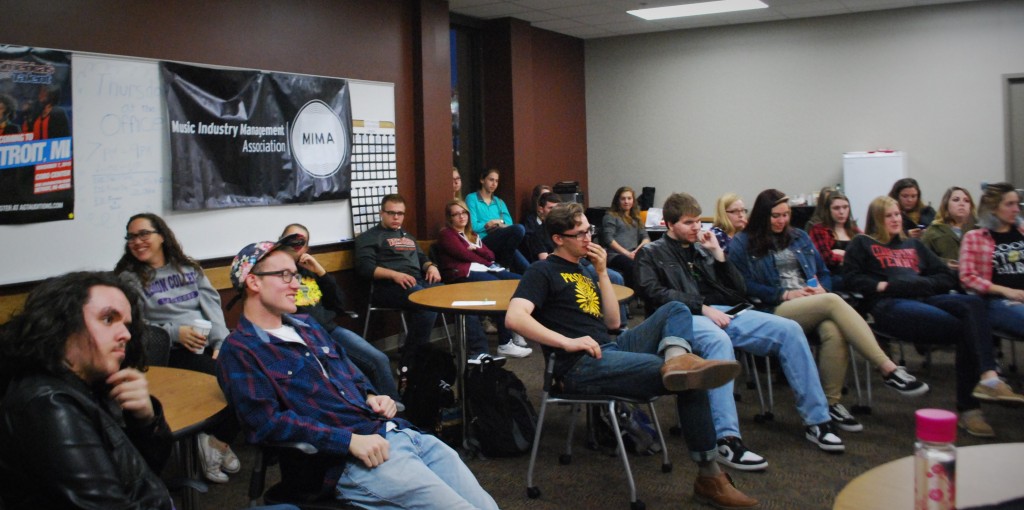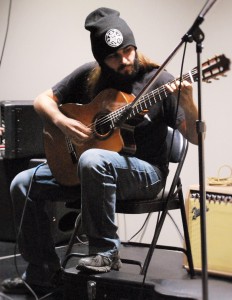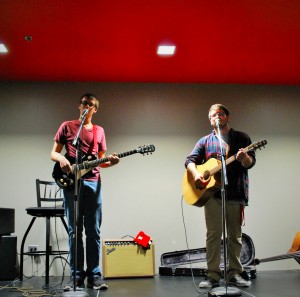 Lovers of live music can find a hidden gem on Thursday nights in Ferris' College of Business.
Every Thursday night at 7 p.m., music industry management (MIM) students host musical performances by local artists. Until this semester, the event was called FSU Unplugged. MIM's recent move to Business Building room 112 inspired the rebranding, "Thursdays at the Office." Artists perform right inside the MIM office, which is home to a stage, sound equipment, recording lab and an always supportive audience.
Ferris MIM sophomore Chase Dunneback has played guitar and sung covers and original songs for just over a year. Dunneback stole a recent fshow with an original song, "Mom's an Angel," written about a friend's mother who died of cancer. He then went on to pick up the tempo with a mashup of modern pop songs.
"It gives students a place to go and hang out and listen to some good music from kids here at their own university," Dunneback said.
Hosting the show was MIM sophomore Ashlee Jones, who explained the shows not only benefit the artists, but give MIM students the chance to experience organizing and hosting an event.
"It's about entertainment and bringing people together," Jones said. "It gives people the opportunity to perform on stage."  Garage rockers Beach Thief closed the show. The band, comprised of Ferris students Josh Olszewski, Shawn White and Jordan McNaughton, performed several original, indie-style rock songs including a crowd favorite, "Mom, Can I Smoke Cigarettes?"
Along with Jones, the event was run by Ferris MIM students Brenden Long and Nick Graham. Graham said there are plans to eventually integrate standup comedy into "Thursdays at the Office."
Any Ferris student or member of the community interested in performing for "Thursdays at the Office" can contact Jones at jonea110@nullferris.edu.