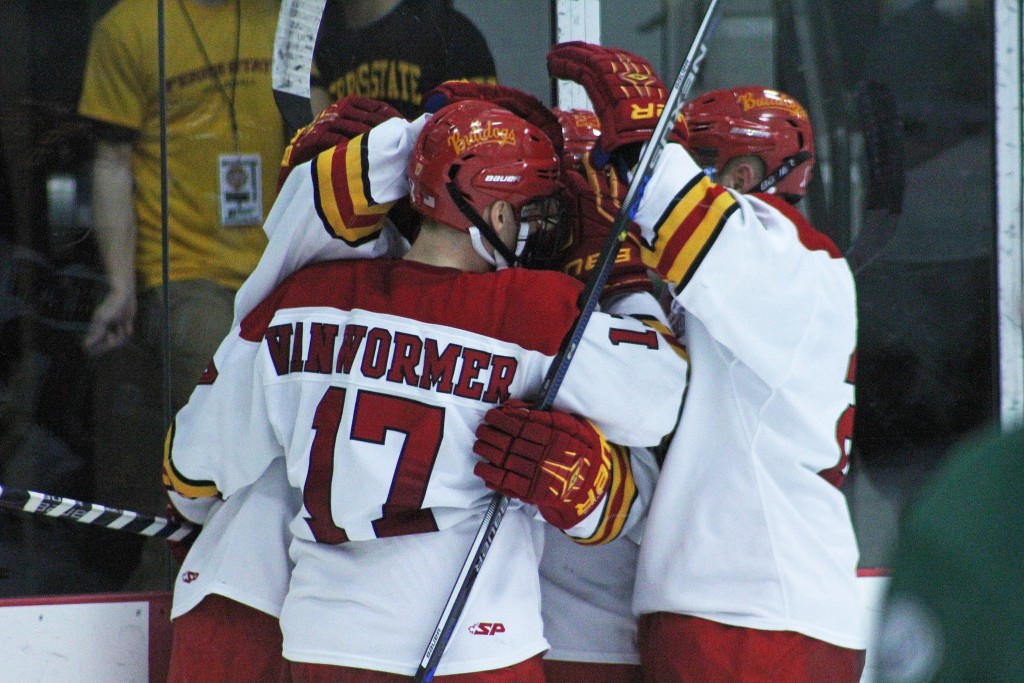 The Beavers opened the scoring once again when BSU sophomore right wing Jordan Heller snuck the puck by Ferris junior goaltender Charles Williams at the 7:52 mark in the first period. That score would hold until midway through the second period.
Ferris had a man advantage for 14 minutes on the night, thanks to a total of seven penalties called on the Beavers. They were finally able to capitalize on one with 7:48 left in the second period, when junior right wing Gerald Mayhew scored on the power play with the help of junior right wing Jared VanWormer and senior defenseman Brandon Anselmini.
Immediately following the goal, teddy bears rained from the stand and covered the ice as part of the Teddy Bear Toss program. The bears were to be collected and donated to the Salvation Army.
After a scoring hiatus, Ferris earned a go-ahead goal scored late in the third period which came as a result of a slick setup by sophomore center Drew Dorantes to freshman left wing Corey Mackin, who netted his sixth goal of the season. Freshman defenseman Zac Tierney was also credited with an assist on the play.
Ferris retained the lead until the final buzzer, thus sending Ferris fans home happy and the Bulldogs home with a 1-1 series split against Bemidji State.
The offense did not come easy in this game, as Ferris had to fire 38 total shots just to manage two goals. Though the Bulldogs defense was also stingy, as they faced 31 shots and allowed just one goal.
With the win, the Bulldogs improve to a 7-7-4 overall record, which pushes them back to .500 on the season. They will remain in fourth place in the WCHA after upping their conference record to 6-6-2.
The next time the Dawgs see the ice will be in a road tilt against Northern Michigan on Dec. 11 with the puck set to drop at 7:07 p.m.