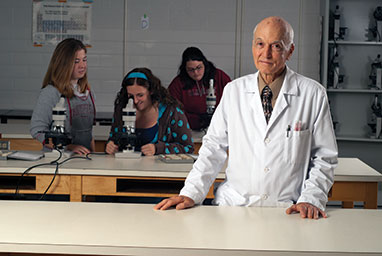 When Dr. Robert Friar was asked by Ferris to hold off on retirement, he agreed to stay and teach his famed human sexuality class on one condition:
Friar, employed at Ferris since 1967, refused to be paid.
This was in the spring of 2015. Friar has since donated all his checks to a scholarship fund in Ferris' department of social sciences and taught for free.
The class got even more unique for Friar's students this semester, who were informed they will be refunded the $764 they paid for the two-credit course at the end of the semester.
This makes Friar's students happy.
"He's taught for a long time and seen a lot," said Ferris liberal arts freshman JR Bouterse, who is taking human sexuality because it sounded interesting. "He's been a lot of different places and it really just comes down to the fact that he wants to teach."
The 100-level course does not apply to any degree at Ferris. But according to Friar, all students can benefit from it and that's why he continues teaching for free. In human sexuality, he doesn't shy away from anything, having class discussions on topics ranging from STDs to unwanted pregnancies, divorce and raising children.
"This is part of who we are and why we exist," Friar said. "I think people should understand this in proper prospective. That's what makes this course so rewarding. Covering an area which is often times neglected in our culture."
Originally taught by three professors, human sexuality teaches concepts from biology, sociology, psychology, anthropology, theology and even economics.
"The number one problem in marriages is arguing over money," he said. "If we can get people to realize this, the chances of making marriages work will improve."
Friar said he enjoys having been at Ferris long enough to reconnect with former students and meet their spouses and children.
How students are being refunded for Friar's class remains unclear. Two university administrators were contacted regarding Friar's arrangement to teach for free and refused to comment.