A guest film screening last Tuesday at Williams Auditorium was open to anyone interested in starting the conversation about philanthropy at Ferris.
The ancient Greeks defined philanthropy as "the love of humankind," according to a scholar interviewed by Dr. Salvatore Alaimo in his film "What Is Philanthropy?"
Alaimo is an associate professor in the School of Public, Nonprofit and Health Administration at Grand Valley State University. He made the film to make information more available about charitable giving, volunteering, activism and nonprofit organizations.
"I thought about all of the people out there, all of the citizens engaged in philanthropy in some way," said Alaimo. "I recognized the average citizen doesn't have enough of an understanding of the concept of philanthropy. So I said, 'What can we do to fill the gap?' I thought a film would be a good way to spark discussion and thought around this concept."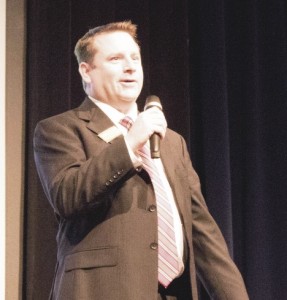 Philanthropy isn't limited to volunteering time or holding fundraising events for charitable causes. Social activism is one of the more controversial forms of giving back to society, and Alaimo said this concept of giving hasn't been so well received by some.
"If you volunteer your time to organize citizens, to protest and try to correct a societal ill, that is a form of giving," said Alaimo. "I ask my students, 'Was Dr. King a philanthropist?' and they'll ponder that and they'll say, 'Yeah, I think he was.' His gift was engaging all of his time and starting a movement, and now we have laws on the books. Our society has been improved based on his efforts. And he paid the ultimate price for it, too. He lost his life. Not that we're competing here, but that versus writing a check… You can judge for yourself."
Student Foundation is a developing student organization at Ferris State that will focus on developing a student culture of philanthropy. The founding members of Student Foundation hosted the event along with University Advancement and Marketing at Ferris State.
"Student Foundation is about connecting with the students here and developing the sense of family in student body toward charitable giving," said Ferris digital animation and game design sophomore Matt Yontz.
David Lepper, the associate vice president of advancement at Ferris State University was in attendance at the film screening. He talked about his vision of building a culture of philanthropy at Ferris among students, faculty and staff.
"I want to share this with more of the faculty, staff and our volun- teers," said Lepper. "Raising money is only a small part of what we do. Philanthropy is about building relationships. When talking to people, it's about figuring out what they want. It's about figuring out what their values and passions are."