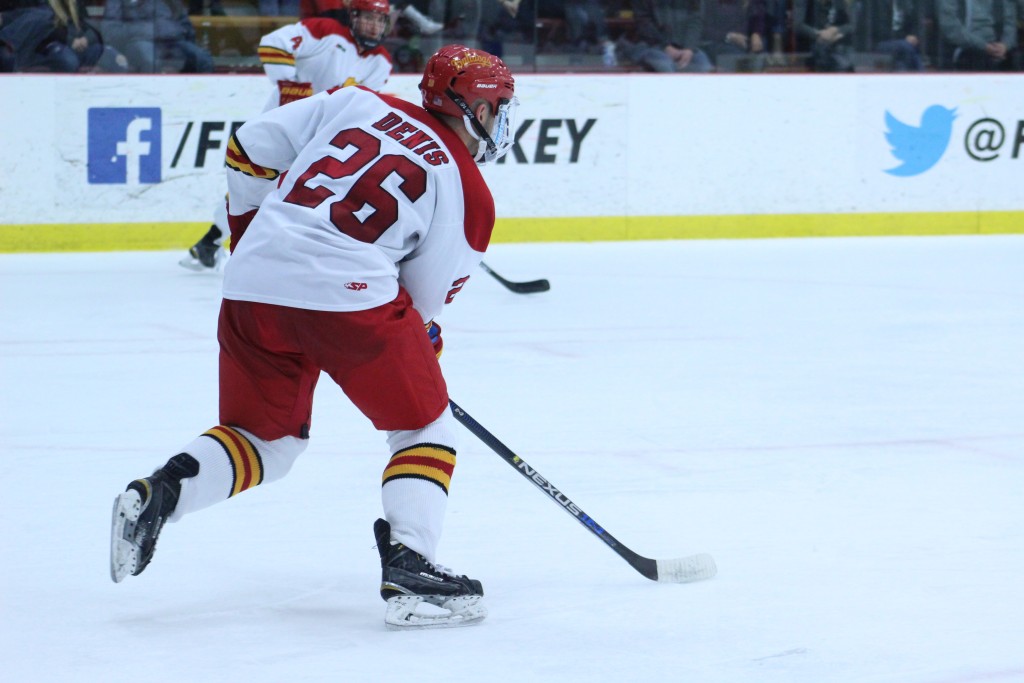 The Ferris State hockey team fell to Northern Michigan 3-2 in overtime on Saturday night.
The Bulldogs started the scoring in the first period with an unassisted shorthanded goal by junior forward Gerald Mayhew. The Bulldogs gave up the lead on a goal by NMU sophomore forward Robbie Payne with just 29 seconds remaining in the first period.
Payne would strike again early in the second period to give the Wildcats the lead. Ferris wouldn't give up though, as Mayhew would net his second goal of the night off an assist from junior defenseman Ryan Lowney.
The third period would remain scoreless and both teams would be guaranteed a point as the game went into overtime. The OT period didn't last long though as Northern Michigan's junior forward Dominik Shine slipped one past FSU freshman goaltender Darren Smith to seal the deal 3-2.
The Bulldogs have yet to win both games in a weekend series, but also have not been swept yet this season. Ferris sits at No. 4 in the WCHA and have an overall record of 8-8-4.
Ferris will have plenty of rest during the holidays, as they don't play again until New Year's Day. The Bulldogs will take on Harvard University in the 25th Annual Mariucci Classic in Minneapolis, Minn. at 5 p.m. on Jan. 1.