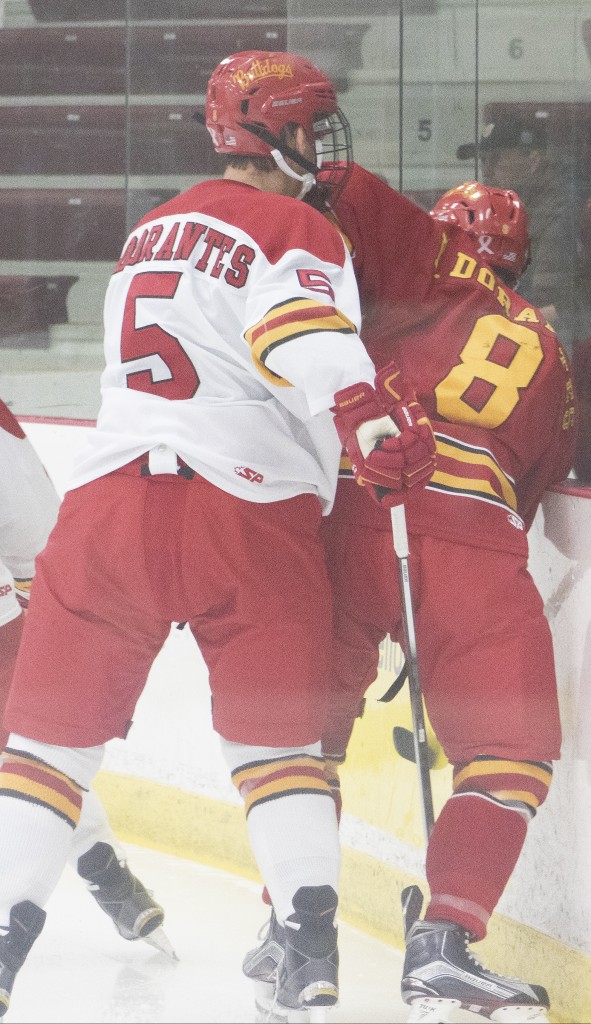 The term "brotherhood" is thrown around quite a bit in the world of sports, but the meaning runs a bit deeper when it comes to Ferris State hockey.
The Bulldogs have had a surge of great play on the ice from younger talent in the first half of the season. Two of those young men are sophomore defenseman Tyler Dorantes and sophomore forward Andrew Dorantes. Tyler, 21, and Drew, 22, are brothers from Waterford, Mich. who came to Ferris State last year together as freshmen to begin their stint as Bulldog hockey players in the 2014-2015 season.
"Being able to play together is great, we get to share a lot of memories together.  We always have so much fun being on the ice together," Tyler said. "It also makes it easy on our parents because they get to come to just about every home game."
The two graduated from different high schools to accommodate their hockey a year apart.  Drew graduated from Kearney High School in Nebraska in 2012 while Tyler graduated from Valley High School in Des Moines, IA in 2013.  Tyler and Drew do not take the opportunity to play together here at Ferris for granted.
"It's such a special feeling to be able to play together," Drew said. "Over the years we have both been in different spots and haven't had the chance to watch each other, so to be able to not only see each other but play with each other is something that I'll treasure forever.  When he makes a good play or scores, I get just as excited as if I was the one scoring, so it has been awesome."
The Bulldog bros are motivated to help get the Dawgs over the .500 hump and obtain some more wins.
"In the short run, we want to pull ahead of the other teams in our conference by sweeping the majority of our remaining weekends," Tyler said. "Long term, we want to get home ice for the playoffs, win the final five and get an NCAA Tournament bid."
Tyler stressed the fact that he wants to be able to stay consistent every day he laces up his skates and lock in on each day's task so that he can give his teammates an opportunity to get better.  Drew has similar goals for himself and the team as he plans to focus on growing as a person and a player to be a guy his teammates can always depend on.
Tyler and Drew enjoy being able to fly the Ferris flag and play together, but there is no shortage of competitiveness between the brothers when it comes to other things.
"We're extremely competitive," Drew said. "Luckily we're different positions, but in one on one battles I always want to win against him.  In the weight room is where we also get competitive. I may see him hang-cleaning more weight than me, so I'll throw on whatever weight he's doing and try it."
Head Coach Bob Daniels and his staff have an abundance of young talent on the roster who promise to help Bulldog hockey maintain a great reputation in all of college hockey.  The Dorantes brothers are two of the guys who can help lead the team both now and down the line.
The Bulldogs are back in action this Friday, Jan. 15 after a long winter break to kick off the weekend series in Big Rapids against the Chargers of Alabama-Huntsville.  The puck drops at 7:07 p.m. in Ewigleben Ice Arena. 
More good news, the parents of the Dorantes brothers don't have to make the tough decision of choosing which kid's game to go to this weekend.