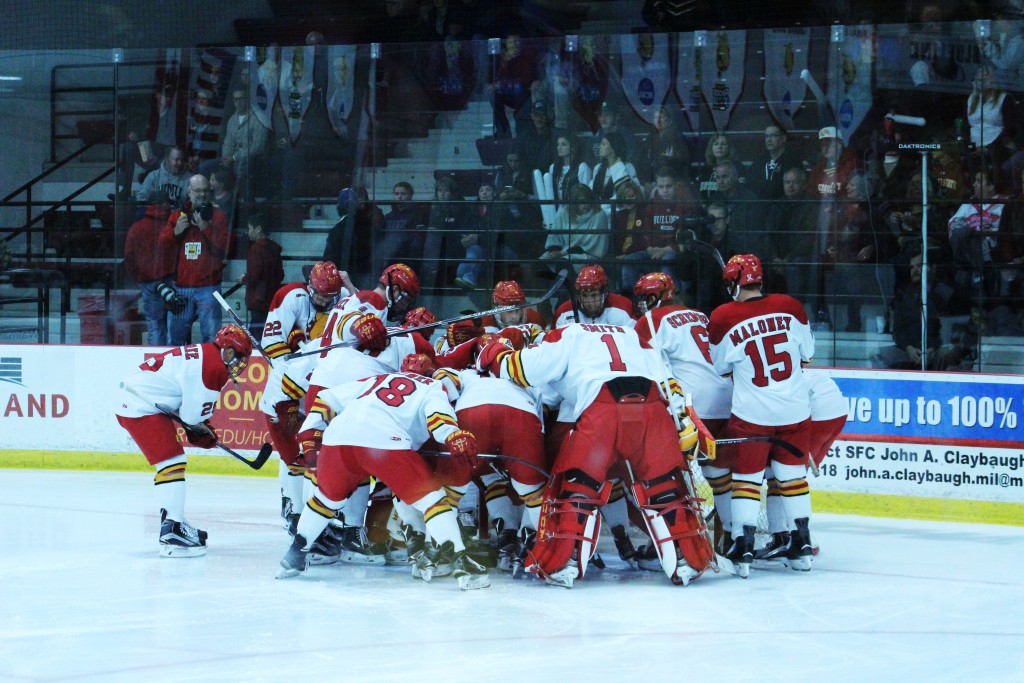 It's finally time for Big Rapids to come out of hockey hibernation this weekend as the Bulldogs are home for the first time since the first week of December to take on Alabama-Huntsville.
The Dawgs played the Chargers four times last season and only lost the first matchup, taking a 3-1 record against Alabama-Huntsville for the 2014-2015 season. The Chargers are yet to really take off this season, as they currently hold a 5-15-2 overall record with a .273 winning percentage. No matter the record, the Dawgs are not looking to take Alabama-Huntsville lightly and know the importance of getting a good start coming off of the winter break according to senior forward Kenny Babinski.
"It is definitely very important to get the second half of the season started off on the right foot with wins. Especially to get conference wins," Babinski said. "We will need to outwork a very hard working Huntsville team if we want to win, and I know that we will be ready to compete"
Junior forward Kyle Schempp and junior forward Chad McDonald tallied three goals apiece in all of last year's run-ins with the Chargers, leading the scoring effort for the Dawgs.
Ferris State is hoping to grab a couple wins and keep the ball rolling through the month of January to prevent a slump like the team saw last year. The Bulldogs were only able to grab two wins in last season's January play, but the surge of scoring from a number of different players on the team so far this year is reason enough to have confidence in the team.
Early on in the season, Head Coach Bob Daniels said that even though wins were elusive during the middle part of the season, he was extremely proud of the fact that his guys were able to get out of it and finish the season strong.
A total of six different Bulldogs were able to find the back of the net for goals over the course of two games last weekend during the 2016 Mariucci Classic. In that tournament, Ferris State lost in their opening game against Harvard 7-3. In the consolation game of the Mariucci Classic, the Dawgs took it to the Huskies of the University of Connecticut with a 5-2 victory to end the weekend.
"We have been getting scoring from first line players to fourth line players, and that is especially important as the season goes on," Babinski said. "Guys may be out of the lineup with injuries or getting worn down, and getting scoring from everyone is necessary."
As of now, the Bulldogs are healthy and ready to get back to playing in front of the Big Rapids crowd when the puck drops at 7:07 p.m. on Friday, Jan. 15 in Ewigleben Ice Arena.