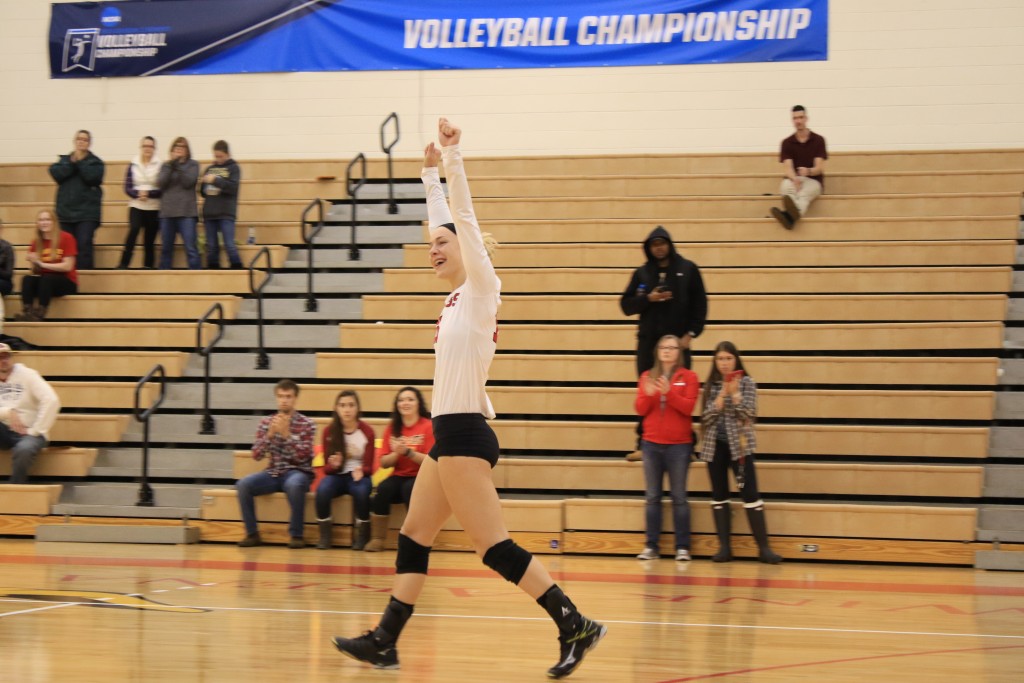 The end of a senior athlete's college career can often be the end of a story with more pages to be written. What happens when their career is over?
Four seniors were asked, "What's next?"
Ferris volleyball went 33-3 in the fall and lost in the Midwest Regional Finals to Rockhurst 3-2. Despite a premature ending of a championship hopeful year, the Bulldogs had the best season in Ferris history. This success was due in large part to senior hitters Alexis Huntey, Caroline Heitzman, Megan Vander Meer and senior libero Danielle Dowd.
Dowd is a nursing major currently enrolled in the Ferris State nursing program. She led the GLIAC in digs this year with 577 and helped her team win the GLIAC title.
Dowd said, "It's been really fun being an athlete at Ferris and getting to represent my university at these other universities. It's also really cool to hang out with these girls for four years. So, that's been a blessing having friends that will last long beyond college."
This semester is Dowd's last and will be the start of new life. She said, "I finish nursing school in August so I'm just continuing to enjoy the college life a little longer and then hopefully take the Boards and get a job somewhere."
Dowd's favorite moment of her senior year was winning against perennial champion Concordia St. Paul in the finals of the Colorado Premier Challenge.
Dowd's teammate, Megan Vander Meer is a technical and professional communication major and earned her second straight All-American nod this year. She plans to take her transcendent play overseas.
Vander Meer said, "I'm going to play volleyball overseas at least for as long as I can. My major is my backup plan if playing overseas doesn't work out. Volleyball is more of an option right now than my major but if volleyball doesn't work out then I [have] other options."
The end of her college career may be the start of her professional career as she is in talks with an agency to get on the map overseas, especially Europe.
Like Dowd, Vander Meer was disappointed in the end of last season, but she was proud of her time at Ferris. She said, "I wouldn't want to go down with another team."
Volleyball was not the only Ferris team to have a great senior-led season. Ferris soccer allowed the fewest goals in school history en route to a school record finish of 14-5-1. Additionally, the Dawgs had a school record four-game shutout streak.
This season was fueled by a defense of mainly seniors including goalie Maddie Haustein and defenders Ashley Bradstreet, Lindsey Scott and Hunter Dolan.
Dolan was a two-way player who contributed her whole career. However, the conclusion was not what she had hoped for.
Dolan said, "We had a premature ending to the season but I couldn't have been more proud with all the records we set. It was just a great team."
Dolan graduated in the fall with a nursing degree with plans of moving to Grand Rapids looking for jobs. She currently has an interview lined up with Butterworth Spectrum.
On the offensive side of the ball, senior forward Nichole Boehnke led Ferris soccer with 19 points and 23 shots on goal.
Boehnke's sentiments towards last season were bittersweet as the close of her career left behind friendship. She said, "It's amazing how close we came. We're going to be friends for life. I'm going to miss them the most but we had a remarkable season."
Boehnke also graduated this past fall but with a degree in journalism and technical communication and a minor in advertising and marketing communication. She is moving to Grand Rapids with fellow teammates Dolan and Amanda Mathy where Boehnke will work in the promotional and marketing department at Cumulus Media.
There she will run social media pages and work with radio personalities, promoting their radio shows.
Some of the pages are still blank for these seniors but all have plans to add to the narrative. With their departures comes the beginning of a new chapter in the story of Ferris athletics.