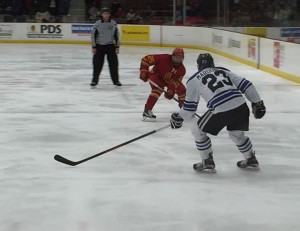 Despite piling on 49 shots, the Bulldogs were unable to pull away against the Chargers of Alabama-Huntsville and were forced to settle for a tie.
The first period belonged to the Dawgs, as they racked up 16 shots compared to the Chargers' four, and were able to find twine first just 2:26 into the game.
Ferris brothers Tyler and Drew Dorantes helped pitch the assist that freshman left wing Corey Mackin batted out of the air into the net for the first goal of the night. Mackin, who scored his eighth goal of the season, leads the team in that statistic.
The scoring would cease until midway through the second period when AHU's Max McHugh snuck one past Ferris freshman goaltender Darren Smith. This period would also remain scoreless after one goal, and the Dawgs would enter the third period tied 1-1.
Having allowed only nine shots through two periods, the Bulldogs were hoping that one more goal would be the dagger that put the Chargers down. That go-ahead goal came off the stick of Ferris junior center Jared VanWormer, with assists by fellow junior line mates Kyle Schempp and Gerald Mayhew. However, the 2-1 lead wouldn't stick for long.
Just 37 seconds later, the Chargers tied the game once again when AHU's Matt Salhany won the face-off at center ice and took it all the way to the net for an unassisted goal.
Alabama-Huntsville earned their first lead of the night when Tyler Poulsen took advantage of a turnover in FSU's defensive zone to net an unassisted goal. After the goal horn had sounded, one Bulldog lingered on the ground after surrendering the puck, which led to the goal: Ferris senior center Kenny Babinski.
However, with just 1:03 to play in regulation, Babinski earned his redemption by scoring off a rebound to tie the game up once again. Senior defensemen Simon Denis and Sean O'Rourke were credited with the assists. The 3-3 tie would carry through regulation and the overtime period, ending the game in a tie.
Smith allowed three goals on just 21 shots, which is well below his season goals against average of .926.
With the tie, the Bulldogs move to a 9-9-5 overall record which will have them continue to hover around .500 as they have all season. The Dawgs will host Alabama-Huntsville again tomorrow, with the puck drop scheduled for 7:07 p.m. in Ewigleben Arena.