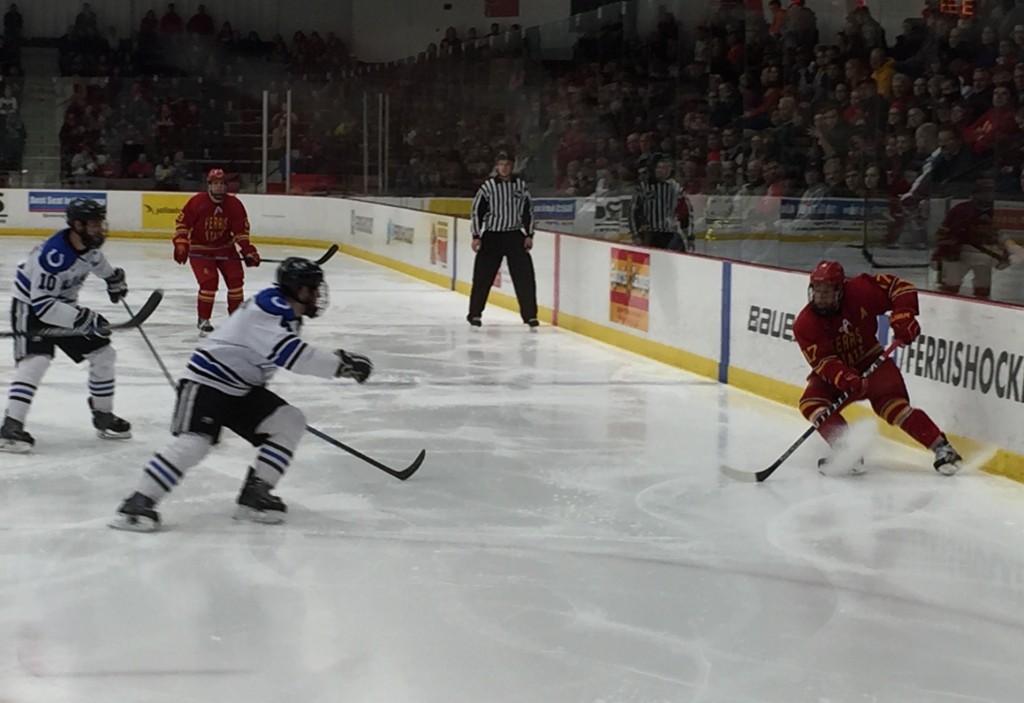 After a 3-3 tie on Friday night, FSU hockey picked up two points with a 4-1 win against Alabama-Huntsville on Saturday night.
The Bulldogs struck first with a goal by senior defenseman Simon Denis with just under seven minutes left in the first period. Junior forwards Gerald Mayhew and Jared VanWormer were awarded assists on the goal.
The second period contained most of the action, as Alabama-Huntsville's Josh Kestner locked the game up at 1-1 after scoring off an assist from line-mate Kurt Gosselin. This would be the last goal for the Chargers, and it was all Bulldogs from there on out.
Ferris scored two goals in the last 5:30 of the second period. Sophomore forward Tyler Andrew capitalized off an assist from senior defenseman Sean O'Rourke. With just 46 seconds left in the second period, senior defenseman Brandon Anselmini tacked one on for the Dawgs on assists from sophomore forward Andrew Mayer and junior forward Kyle Schempp.
Ferris junior forward Chad McDonald put the nail in the coffin for the Bulldogs, scoring off an assist from junior defenseman Ryan Lowney in the third period, putting the game out of reach for the Chargers.
The Bulldogs improved to 10-9-5 overall and 8-7-3 in the WCHA, which is good enough for fourth place in the conference.
Ferris will travel to Minnesota this weekend to take on Bemidji State, on Friday, Jan. 22 and Saturday, Jan. 23. The puck drops at 8:37 p.m. on Friday and 8:07 p.m. on Saturday.