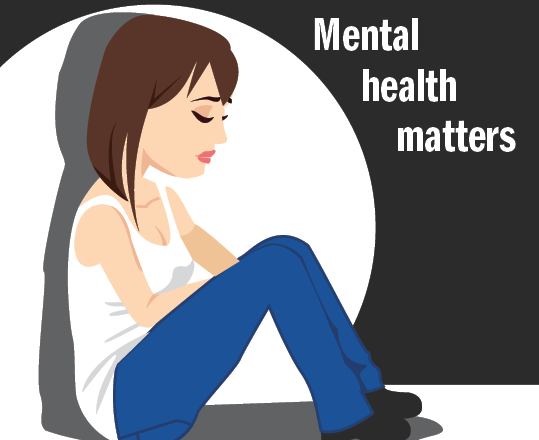 Whether it be for depression, anxiety or addiction, a growing number of Ferris students are seeking counseling for mental health issues
According to its records, the Ferris Counseling Center administered 334 high risk, "triage" counseling sessions during the fall 2015 semester, a 22.3 percent increase from the 273 sessions administered in fall 2014. A session is considered a triage when a student is initially assessed in urgent need of care or when a student is referred to counseling by the Department of Public Safety for activities such as a suicide attempt or excessive alcohol use.
According to Tom Liszewski, a licensed professional counselor and substance abuse specialist at the Ferris Counseling Center, most colleges and universities in Michigan have seen a steady increase in demand for mental health services over the past several years.
"The stigma about having mental health challenges is decreasing," Liszewski said. "People are more comfortable getting counseling these days."
Active Minds is a campus organization that promotes the discussion of mental health. Active Minds president and Ferris sports communication junior Victoria Hudgins said the group has become her home away from home at Ferris.
"A lot of people think talking about mental health is uncomfortable or they don't want to talk about an issue they may be having," said Hudgins. "Our goal is to tell students it's okay to talk about mental health. Depression isn't a bad thing. You can come out of it with a positive attitude."
Whether he's studying, at his job in the College of Business or serving as president of the American Marketing Association, Ferris marketing junior Alex Bray spends a lot of time on campus. According to Bray, the best way to destress is exercise.
"Work out, run, get outside if you can, anything to get your mind off work," Bray said. "You have to put yourself first. School comes second, no matter what."
Liszewski supports this, endorsing exercise as a method of promoting strong mental health.
"Exercise produces dopamine, endorphins and serotonin, all of which are what I call 'emotional shock absorbers,'" Liszewski said.
Liszewski also recommends a diet with less caffeine and sugar to reduce anxiety.
The Ferris Counseling Center administered a total of 1,177 sessions during the fall 2015 semester, providing students with  one-on-one sessions, relationship counseling and group workshops for relieving test anxiety.
The Counseling Center is located on the second floor of the Birkam Health Center. Active Minds is open to anybody and meets at 6 p.m. on Mondays in the University Center, room 016.
---
Mental health at Ferris
Seriously considered suicide – 9.3%
Felt so depressed it was difficult to function – 32.9%
Felt overwhelming anxiety within the last 12 months – 60%
According to a Spring 2015 American College Health Association Survey of 1,147 Ferris Students