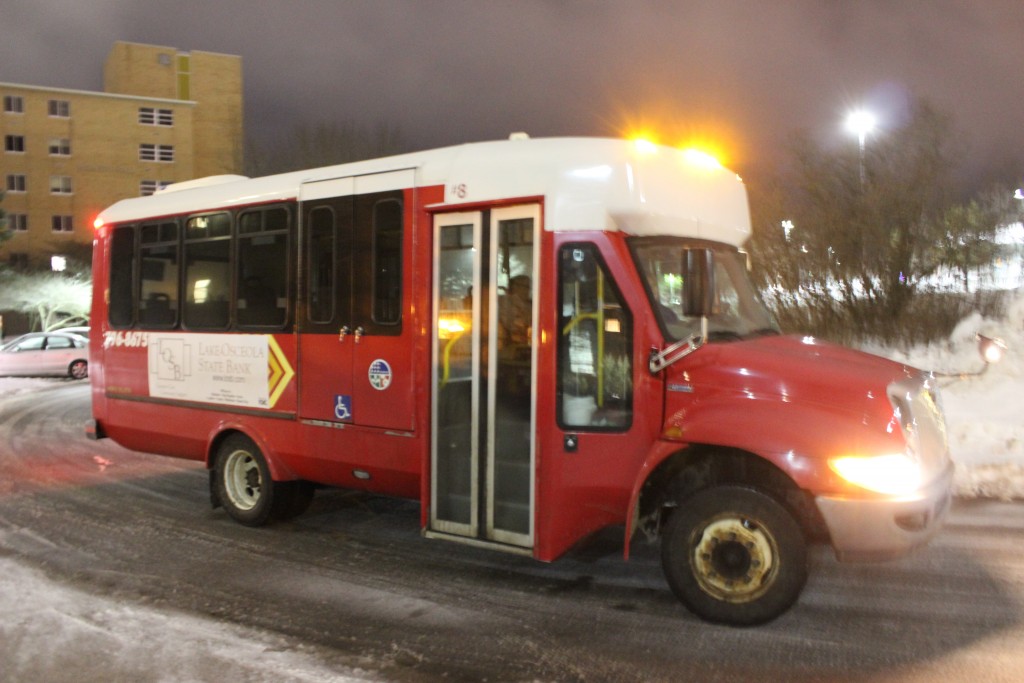 For 15 years, SafeRide has been a staple of night life at Ferris, giving thousands of intoxicated students rides home.
"I don't know why I don't ride this more often," said one student while riding last Saturday's SafeRide bus, contracted through Big Rapids Dial-A-Ride.
Another student yelled expletives about Star Shooters on her way out of the popular establishment before being delivered to a nearby fraternity house by the SafeRide bus.
Ferris State University pays $525 a week to provide students free shuttle service from The Gate, Star Shooters, Gypsy Nickel Lounge and the Sawmill Saloon every Thursday, Friday and Saturday night of the fall and spring semesters.
"I've had a lot of fun and entertainment with some students," said Saturday's SafeRide bus driver, Jennifer Rosenogle. "Then there are some who are just obnoxious and loud. There can be arguing and fights on the bus."
According to Rosenogle, Shooters is the busiest stop for SafeRide, while she can only remember giving one ride from the Sawmill in the last several years.
SafeRide has given rides to 9,995 students since the service began in 2000. During the fall 2015 semester, SafeRide gave rides to 831 students. SafeRide coordinator Mickey Albright projects the ride count will top 1,600 for the 2015/2016 academic year.
"Safe Ride is a service provided to ensure that students have a safe and reliable form of transportation home if they find themselves unable to drive or depend on someone who is unavailable to get them home safely," Albright said. "Ferris is committed to help educate and provide safe alternatives for students when feasible. We all make poor choices from time to time. We do not want a person's poor decision to result in a catastrophic event."
SafeRide is trackable on operating nights by using the DoubleMap Bus Tracker mobile application.
SafeRide is partly made possible by volunteers, who help gather riders at the bars, communicate addresses with the driver and help maintain a safe riding environment. Volunteers receive three hours of community service through the Volunteer Center every time they volunteer with SafeRide.
"A strong community is built on taking care of one another," Albright said. "Reflecting on this volunteer opportunity, a student should be proud that he or she has taken care of their peers."
Albright encourages users of SafeRide to support the service by "taking their turn" to volunteer.
To volunteer with SafeRide, call the Center for Leadership, Activities and Career Services at  (231) 591-2685 or email volunteercenter@nullferris.edu.
---
SafreRide stops
Gypsy Nickel Lounge
Sawmill Saloon
Star Shooters
The Pub (temporarily closed)
The Gate
Hours: Thursday, Friday & Saturday from 12:00 – 2:30 a.m.