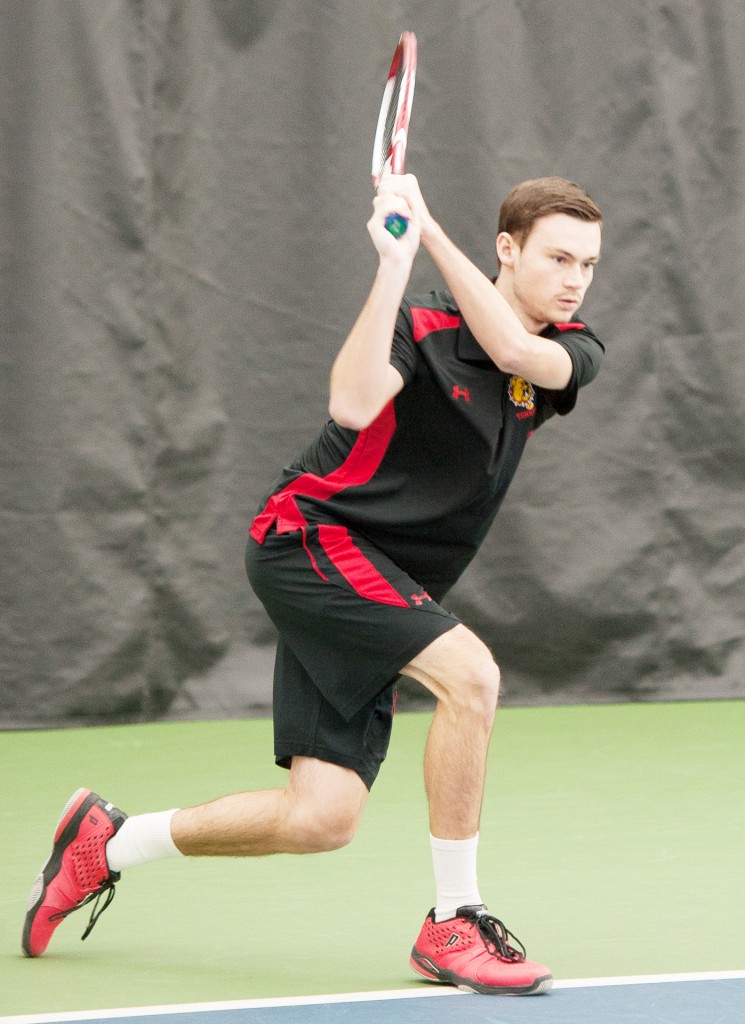 The Ferris State men's tennis team has hit the courts getting ready to start the season against new GLIAC member, Davenport.
The Ferris State men's tennis team is back in action as practices have gotten longer and the Bulldogs' season has begun.
Last year, the Bulldogs were able to make it to the second round of the NCAA midwest regional final but lost to Drury 5-2.
It's a new season and a different group of Bulldogs to lead the way to winning another regular season GLIAC championship. Ferris won the outright regular season championship for the first time in 20 years and were also close to winning the GLIAC tournament championship as well but lost in the finals. The Bulldogs have a new identity as they are without former number one Laurent Galarneau and other key players Roger Hernandez and Aaron Dial.
"I think we were definitely spoiled last year with having guys like Laurent Galarneau, Roger Hernandez and Vasil Surduk as our top three; they basically gave us three number one players and Tyler Bridges, who played four, is very experienced," said coach Chad Berryhill. "Those top four were really good and our doubles were exceptionally good at the end of the year. This year we are not as spoiled at the top, but we definitely have some good guys."
Berryhill said that this new roster will feature some players who lack experience. "Those big top three guys aren't all there as Vasil is the only one back and will depend on him a lot to play the top of the lineup," said Berryhill. "We are 10 guys deep so each and everyone of those guys could easily play in the lineup because we have depth," Berryhill said.
Two guys that are going to be in the lineup that will definitely play a huge role will be freshman Till Von Winning and Stew Sell.
"Both of those guys have big games, both definitely have experience from the juniors and how that's going to carry over to college tennis will be interesting. Till's a guy who very well could have beaten the guy who won our regional in the fall as he barely lost to him in a third set, but we know that Till can play at a high level. Stew was a state champion in Michigan and he's played a lot of good guys, he knows quite a few guys over at Western and trains with a bunch of the Western guys, so I don't think the big stage will be a problem for him," Berryhill said.
Conner Hunt was able to play sixth in the lineup last year and will be working to be in the lineup again as he knows this lineup is going to be tough.
"I feel like we added even more depth than what we had last year. Everyone can beat everyone on any given day, so it makes for a lot of competition at practice. I still see myself as able to play and contribute in the lineup. There are a lot of quality guys who can play and win on our team, so we really can't go wrong with whoever ends up making it," Hunt said.
The Bulldogs will be in action as they begin their season Friday, Feb. 5. at 11 a.m. at the Ferris State Racquet and Fitness Center.