Stylized vinyl records, old vinyl covers, dusty diamond-tipped players, music-themed skateboards and photography deck the Ferris State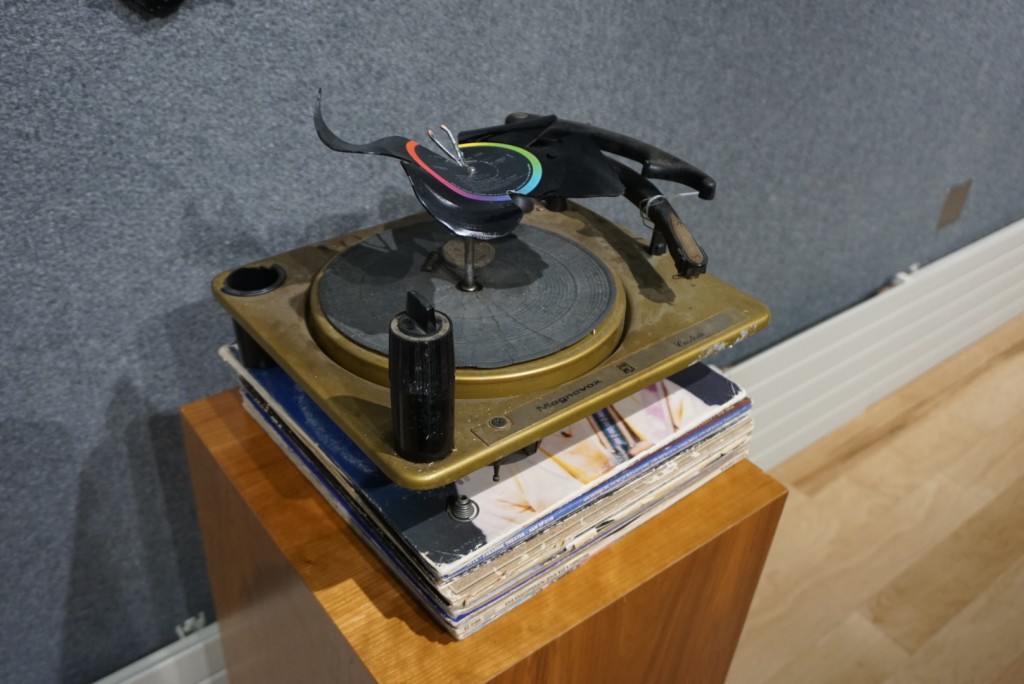 University Fine Art Gallery.
Carrie Weis Stermer, director of the FSU Fine Art Gallery, said the motivation for new art in the gallery, set to open Friday, Jan. 29, is the celebration of music and how it transcends barriers.
"What has been designed transcends any particular generation or genre of music," said Stermer. "It's really inclusive, so you have things that represent historic jazz artists up to contemporary, modern artists. You get to think about what music means to you and you can see and understand that music is one of the artistic forms that doesn't look at race or gender. Music doesn't privilege one group over another group. Music really opens the barriers in the sense that you just listen to it, it sounds great, it makes you feel great and it doesn't matter who made it."
Smithsonian Folkways Music and their work in publishing and documenting people's music from around the world was an inspiration to the music industry management students working on the vinyl-themed gallery. Laura Dion, a marketing specialist from Smithsonian Folkways, will be a guest speaker on the opening night of the art gallery.
"Smithsonian Folkways is a department within the Smithsonian Institute," said Stermer. "That they have someone willing to come here to Ferris and talk to our students and our community,  share what they do and tell how we can be involved in what they do—it's appreciated."
Students from Kendall College of Art and Design (KCAD) created graphics for skateboard decks as part of the vinyl music theme in 2015. Some decks feature musicians Jimi Hendrix, John Lennon, Freddie Mercury, Michael Jackson, Elvis Presley and Jim Morrison. Most other decks feature vinyl records, a cassette tape and other music-related images.
"The concept for the deck was all about the vinyl and how music has transcended barriers," said KCAD graphic design senior Dru Hornak. "When I began the concept, I was thinking about how to visually portray that. I started listening to multiple types of music and then I realized music is universal. So I decided to hand draw the word "music" in graffiti in the seven most common languages."
While the gallery is open, some of the music that will be playing is part of the Don Halm Collection donated to Ferris, which includes more than 1,900 vinyl albums. Ted Halm, who has been the Ferris sports information director for 34 years and is now web content manager for the university, donated the music to Ferris.
Stermer expressed how excited and grateful she is to have worked with students in the music industry management program at Ferris as well as partners from some of the other disciplines on campus who have helped make this gallery possible.
Ferris plastics technology engineering senior Nathan Lee assisted with the vinyl art project. He helped to make and rework the vinyl cut-outs from the drawings submitted by art students.
Lee said lending his insight to the actual making of the vinyl records in the project was a really great experience.
"I thought it was cool," said Lee. "Even though I didn't work very closely with the art students, it was nice to collaborate with them and see what they envisioned and wanted on a vinyl record."
The art gallery Indie Incubator: "All about the Vinyl" opens at 6 p.m. on Friday, Jan. 29 in the Fine Art Gallery located inside the University Center.
Check out the last big exhibit that the FSU Fine Art Gallery featured by clicking here.