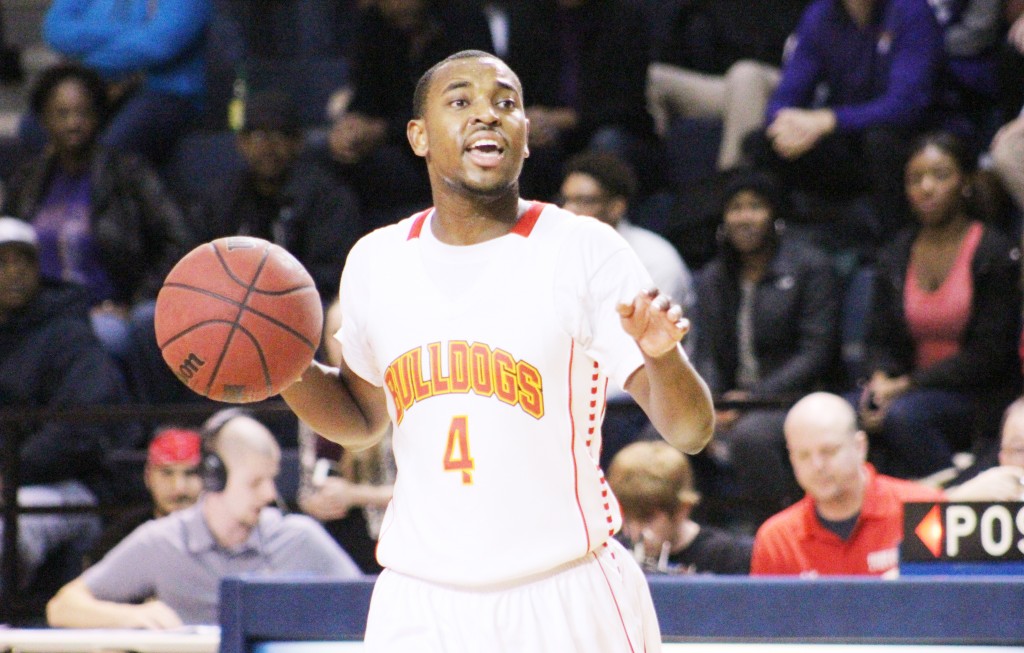 Ferris State men's basketball will take on No. 1 in-conference Saginaw Valley State, rival Grand Valley State and GLIAC opponent Hillsdale with first place on the line.
Ferris and these three teams will alternate matchups with each other this week.
First for the Bulldogs is the No. 7 in-conference Hillsdale Chargers. The Bolts go to Big Rapids having lost three of their last five games. Last year, these teams split the series.
Sophomore guard Noah King said, "We've been preparing for Kyle Cooper who is considered a great player in the GLIAC."
Senior forward Kyle Cooper leads the GLIAC in points per game and is second in three-point percentage with 23.2 and 45.2 respectively. His 6-foot-7-inch frame could cause matchup problems for the Bulldogs whose tallest perimeter player is senior Josh Fleming at 6-foot-6-inches.
King expects Fleming to see action against Cooper.
Ferris beat the Saginaw Valley Cardinals twice last year by five points per game. At the time, the Cards were No. 2 in the GLIAC. The roles are now switched.
Saginaw Valley is No. 1 at 10-2 in the GLIAC, one game ahead of Ferris at 9-3. The top team coming to town is bringing motivation to the Bulldogs.
Sophomore guard Drew Cushingberry said, "Taking on the No. 1 team is motivation but it should be fun. We're trying to win the GLIAC and this is what we play for. This is who we have to knock off."
Cushingberry is fourth in the GLIAC in assist to turnover ratio with three assists per game. This displays this team's mentality of "sharing the ball and having fun."
The other half of that team mentality instilled by head coach Andy Bronkema is defense and rebounding. The Bulldogs did just that as the team held the Cards to 23 points in the second half of the first game. Center Jared Stolicker had 17 rebounds total.
Junior guard Quentin Ruff said, "Coach stuck that mentality in our head at the beginning of the season and beat it in our brains, but every player on this team has the mentality to win. Everybody's going to do what they got to do to get that win."
After Saginaw Valley, Ferris will have the Grand Valley State Lakers in their sights.
Last year, the Bulldogs won the first game in overtime 96-85 on the road, then blew the Lakers out of Big Rapids 77-55.
Cushingberry said, "Last year we came out with a lot of intensity and we have to do that again. We're a tough gritty team that knows how to win and make big plays when it's time to make big plays."
Grand Valley is in a four-way tie for third place at 8-4, a game behind Ferris. All of the Lakers' losses were to top five GLIAC opponents.
Anticipation is high for this year's matchup like it is in every sport between these rivals, but it is too early for the Ferris players to look ahead.
Ruff said, "We're taking this one game at a time. We're just worried about Hillsdale right now, but you can tell a lot of people are looking forward to it."
If Ferris wins out through Monday, they will be No. 1 in the GLIAC. However, they could share that spot.
The Bulldogs will be 12-3 after winning against Hillsdale, Saginaw Valley and Grand Valley. In this scenario, the Cardinals must win against Hillsdale and Grand Valley to share No. 1. If not, Saginaw Valley falls to No. 2.
The Dawgs will be at Hillsdale at 8 p.m. on Thursday, Jan. 28, then host Saginaw Valley State at 3 p.m. on Saturday, Jan. 30 and Grand Valley State at 8 p.m. on Monday, Feb. 1.