Students came together last week to celebrate the life and work of Dr, Martin Luther King, Jr. in a variety of immersive and interactive ways.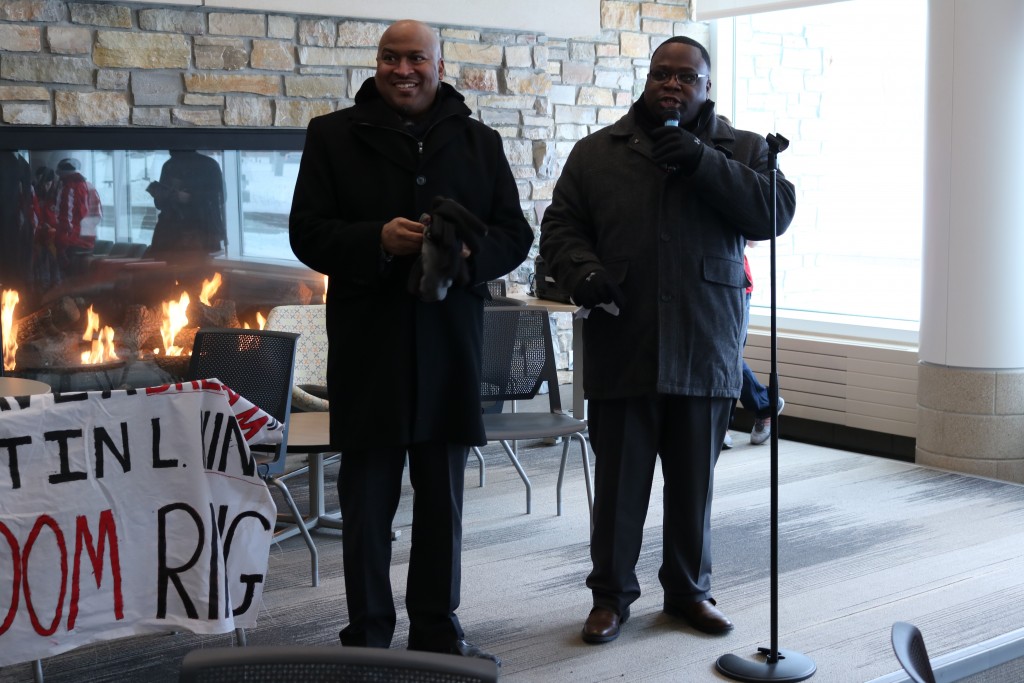 The week-long celebration kicked off on Monday, Jan. 18 with the 30th annual MLK Freedom March. This event has been occurring since the celebration began. This year, the walk drew in over 300 participants willing to brave the below-freezing temperatures to honor Dr. King.
"This year and last were a couple of our best turnouts since the event began 30 years ago," said Ferris Office of Multicultural Student Services assistant director Michael Wade. "It's great to bring everyone here to participate, despite the weather."
The walk began at the University Center, looped past Vandercook Hall and FLITE library and returned to the University Center for post-march acknowledgements. Participants huddled around their hot beverages as awards were given out to nominated students and RSOs who have shown exemplary volunteer or positive service. The student recipient winner was Ferris criminal justice freshman Jordan Cobbs, and the RSO recipients were the NAACP Student Chapter and Real Life.
Throughout the week, many other events continued to honor the work of Dr. King. Tuesday, Jan. 19 featured the annual student tribute, where students and RSOs presented tributes and speeches. The nationally-known Tunnel of Oppression was hosted by the Ferris Office of Housing and Residence Life in Ward Hall over the duration of the week.   "Your Words Have Power" was a featured discussion focusing on inclusivity on campus and was sponsored by Advocacy and Education for Gender Identity and Sexuality (AEGIS) and the Student Michigan Education Association (SMEA).
The celebration week was wrapped up with guest speaker Tamika Mallory. Mallory is a nationally-recognized leader and advocate for social justice and activism. She was introduced by NAACP Student Chapter president Breia Harris. Bronx hip-hop artist Mysonne read a short empowerment piece to set the stage for Mallory's talk.
"Activism is defined as the process in which a person or group of people campaign on behalf of social and political change," said Mallory as she took the stand. "If that is the case, I was raised in activism. I was raised to believe in the power of my voice."
As Mallory continued, she spoke on her origins in activism and what motivated her to pursue her path. She discussed Dr. King's life and his work during our parent's generation. Her speech revolved around a theme: truth and lies.
"Lies create fear," said Mallory. "We have a responsibility to ourselves and to each other. That's the truth, and anything else anyone tells you is a lie."