Students flocked to the University Center Friday, Jan. 22 to celebrate the building's first birthday.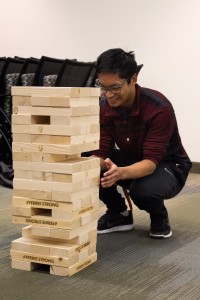 The event ran from 8 p.m. to midnight across the UC and drew in hundreds of students and staff eager to participate in the various activities. The building featured three floors of festivities.
Upstairs on the second floor, guests could participate in a video gaming group, ride the mechanical "bulldog" (yes, it's what you think it is), mix and match bowls of ice cream and join intense games of laser tag. The Market gave out free drinks, smoothies and food in unlimited quantities.
"The mechanical bulldog was a lot of fun to watch people try to hang on as they got swung around," said Ferris pre-pharmacy sophomore David Hunt. "The caricatures were a huge hit, too."
On the main floor, participants could enjoy karaoke as they grabbed free Starbucks samples or were decorated in temporary tattoos. Multiple crafts were spread around the room, including cookie decorating and leather crafts.
"There was free food everywhere, and the karaoke was on point," said Ferris pre-pharmacy sophomore Kathryn Pilczuk.
Downstairs was the hotspot of the building, yet possibly the slowest. Students waited anywhere from an hour to over two hours to customize their own Ferris street signs. The line looped throughout the basement and all the way up the stairwell. While they waited, they could participate in life-size jenga, sip hot chocolate or try to win a t-shirt by shooting pool.
"Tonight was a great time for all the students to be able to enjoy a lot of great games, food and everything," said Hunt. "It was a really fun time."
To see more photos from the event, click here: fsutorch.com/…/photo-gallery-university-center-1-year-anniversary