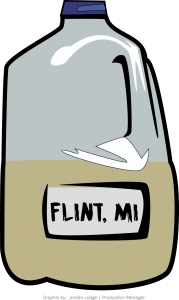 The tap water in Flint has been poisoned by lead, and it is apparent that members of the state government knew about it.
Flint taps were once supplied with treated water from Lake Huron, but were switched over to be supplied by the Flint River in April of 2014. The more corrosive water in the river led to the leeching of lead from aging irrigation pipes. The situation has been deemed a federal state of emergency by President Barack Obama.
Lead poisoning is unique in that once it inflicts damage, in many cases, that damage cannot be undone. Children are especially vulnerable to lead poisoning, which can cause learning, behavioral or physical disorders and death in severe cases.
Ferris second year optometry graduate student Adrian Wright is a Flint native, and his familial ties to the area make the situation all the more horrid.
"There is anger—a lot of anger, because my family is there. A lot of loved ones are there, so there's anger that it got to this point," Wright said.
Wright, also known by his performing name D'arin, was so troubled by the situation that he was moved to write a rap song called "Better Times" about Flint's struggles.
"That was handled with impunity to say the least/They don't care about my community to say the least/We should start a dang mutiny to say the least/Make them drink that poison to say the least," Wright says.
Following that verse is another one further detailing his frustration.
"Heard your piece, basically forget our daughters and our lovely niece/Our sons and our fathers and our nephews, damage is done ain't nobody you can rescue."
However, it's not only Flint natives that are speaking out against the way the water crisis has been handled by the state.
"I find the whole situation to be absolutely horrible and I believe it could've been prevented. With people being trained in the fields they are in, they should have seen this coming and been able to fix this before it's a problem. It's what they're paid to do," said Ferris social work sophomore Garret Prophet.
Accusations of the state's shoddy handling of the situation were common, as Ferris business administration freshman Remington Jankowski also spoke to that effect.
"I believe [the government] tried to avoid this whole situation because it would cost too much money and thought that it would just go away, but it obviously hasn't and they are still not doing everything possible to fix the problem," Jankowski said. "This situation could have been avoided."
Petitions have appeared in various formats calling for Governor Snyder, among others, to face legal action and Prophet agrees with that sentiment.
"I feel legal actions should be taken upon the government for not doing the jobs they're paid to do," Prophet said.
To hear more from Adrian "D'arin" Wright, click here.