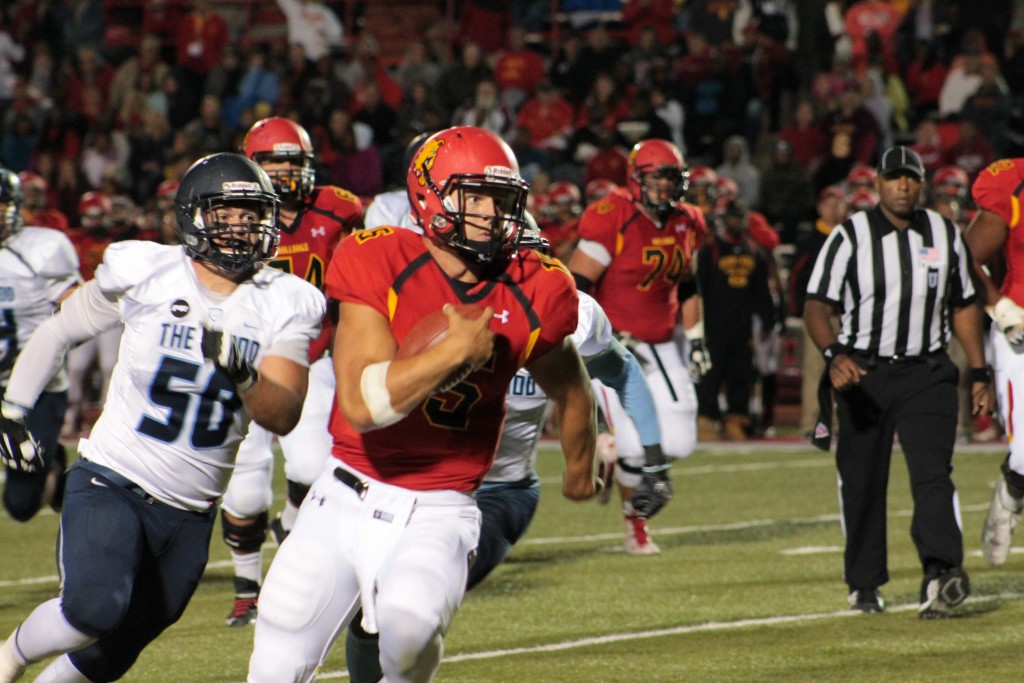 Two-time Harlon Hill Trophy winner Jason Vander Laan is nowhere near ready to hang up his cleats as he prepares for the next step in his football career.
The former Ferris State quarterback is now a couple weeks into his training with speed and strength expert Chip Smith in the greater Atlanta, Ga. area. Most of Vander Laan's days consist of training from 10 a.m. to 4 p.m. His days start off with positional work followed by speed and agility training before he wraps up the workouts with weight lifting.
When asked what he does when he is not training in preparation for the National Football League, Vander Laan laughed as he said, "If I am not training I'm probably eating. The first day I got here, I met with the nutritionist and got my meal plan figured out. I'm trying to gain about 8 to 10 pounds of good weight, so I have to eat about 5300 calories a day to accomplish that."
The 6-foot-4-inch, 244 pound Ferris State legend from Frankfort, Ill. is in fact the all-time leader in rushing yards at the quarterback position in any division of college football that has stood since 1992, but that is not stopping Jason from trying out some new things so he can have a greater chance of making it to the next level.
"I am training two days at quarterback and two days at tight end each week," Vander Laan said. "There are three total quarterbacks here and two other tight ends."
There are not many people who are able to say they've been on a professional football team and being a versatile athlete who is able to play at multiple positions is something that will work in Vander Laan's favor as he searches for a roster spot. Vander Laan is in the company of athletes from some big name schools as he trains in Atlanta.
"All the guys get along very well here as we are all here trying to chase our dreams," Vander Laan said. "There are a lot of ACC, SEC and Ivy League kids here."
NFL scouts were eyeing Vander Laan all season long over the course of his senior year as they look to find the best fits for their team. Jason will continue to train in Georgia under Smith as he continues to grow in his abilities as a football player.
Vander Laan seems to be getting used to the warm Georgia weather. He said, "As easy as it is to get used to low 60's and sunshine in January, I do miss all of my friends and teammates up in Big Rapids."
With 5,983 total rushing yards and 8,240 total passing yards combined for an astounding 14,223 yards over four years as a Bulldog, Vander Laan is ready to leave his unmistakable mark on another lucky team.
Read about Vander Laan accepting the Harlon Hill trophy not once, but twice here.