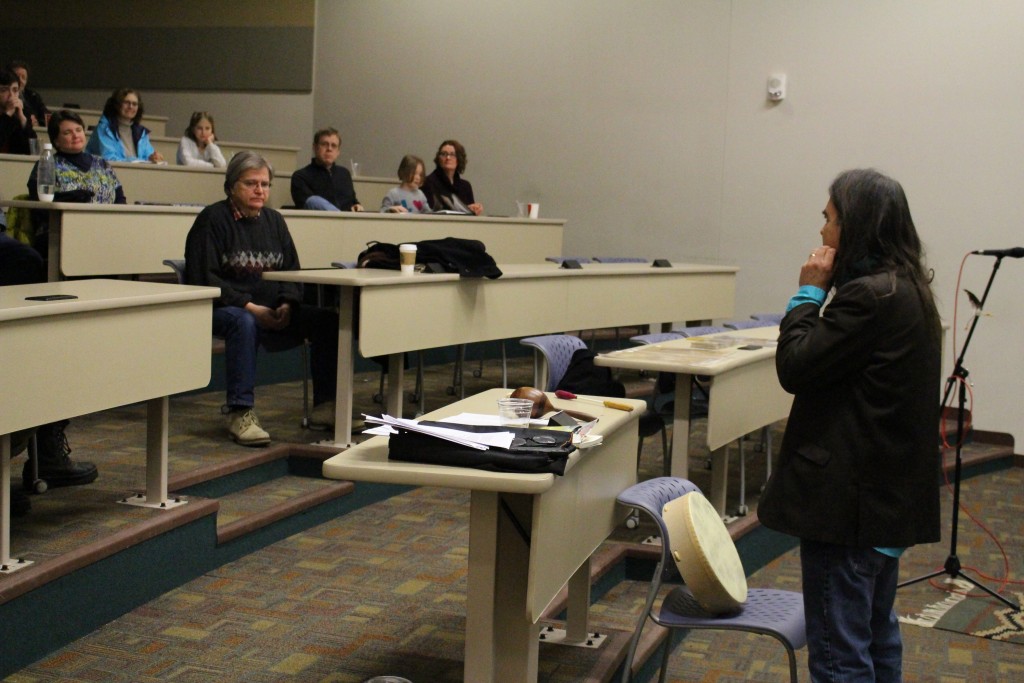 Students, faculty and community members alike were treated to an experience in poetry and music Thursday, Jan. 28 as poet and performer Gordon Henry took to the podium of Ferris State's IRC 120.
The free event, entitled "Traveling Among Strangers Again: Music, Storytelling and Poetry" was this year's first in the Literature in Person series hosted by the university's Languages and Literature Department.
Accompanying Gordon Henry was the musical group Zahquod, consisting of multi-instrumentalists Mike Johnston and Mike Gilmore.
Henry is an award-winning poet and a member of Minnesota's White Earth Band of Ojibwe. He specializes in ceremonial practices and storytelling from a modern day American Indian point of view. He is also a long-time faculty member of Michigan State University.
The performance, a combination of spoken prose and poetry set to ambient acoustic instrumentation, enlightened and entertained the 40-strong crowd.
"I come to poetry events because I love human connection," said social work grad student Covita Ankney. "I like hearing something different."
Different might be one way to describe it. The music was sweet and bygone, and the crowd sat silent as Henry recited original material covering such diverse topics as language, hunting, family, death, suicide and answering machines. He could be dark at times and humorous at others.
"He had a nice range of poetry," said Deirdre Fagan, an assistant professor in Ferris' College of Arts and Sciences and coordinator of the night's event. "A good mixture of dark and light."
Gordon Henry is mostly new to the music scene and considers himself a writer first. Most important, though, Henry stresses the power of words and music, and its potential value to students as an outlet.
"The way you can use life experience to make art and creative performance opens the possibilities," said Henry.
According to Henry, the turnout wasn't too bad for a cold winter Thursday night.
"Way good," he said.
The next Literature in Person event will be poet Patrick Russell LeBeau Feb. 12 in IRC 120. More information can be found on the Ferris State student calendar.