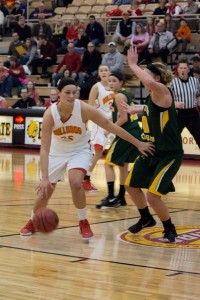 This week's top dawg put on a dominating performance against a top team in the GLIAC North Division.
Ferris State senior Alexis Huntey led the Bulldogs' women's basketball team in points, rebounds and assists in a huge 57-55 upset against Saginaw Valley State last Saturday, Jan. 30.
Huntey, a 6-foot-1-inch senior from Stanwood, had a remarkable performance, scoring 20 points, pulling down 19 rebounds and tacking on five assists in the contest.
The Bulldogs have had a rough go at it this season as they sit on a 4-16 record, but ever since Huntey joined the team, she has been a rare constant positive for Ferris State. Huntey was also a four-year standout volleyball player for Ferris State and decided to play basketball in her senior year at Ferris.
The decision was a good one, as she is averaging a double-double in her 12 games playing for the Bulldogs. Huntey averages 14.4 points and 10.8 rebounds per game, which are both good enough for the highest on the team.
Huntey and the Lady Bulldogs will take to the road this week as they play at Michigan Tech on Thursday, Feb. 4 in Houghton and Northern Michigan in Marquette on Saturday, Feb. 6.
Basketball isn't Huntey's only sport, check out when she was Top Dawg for volleyball here.