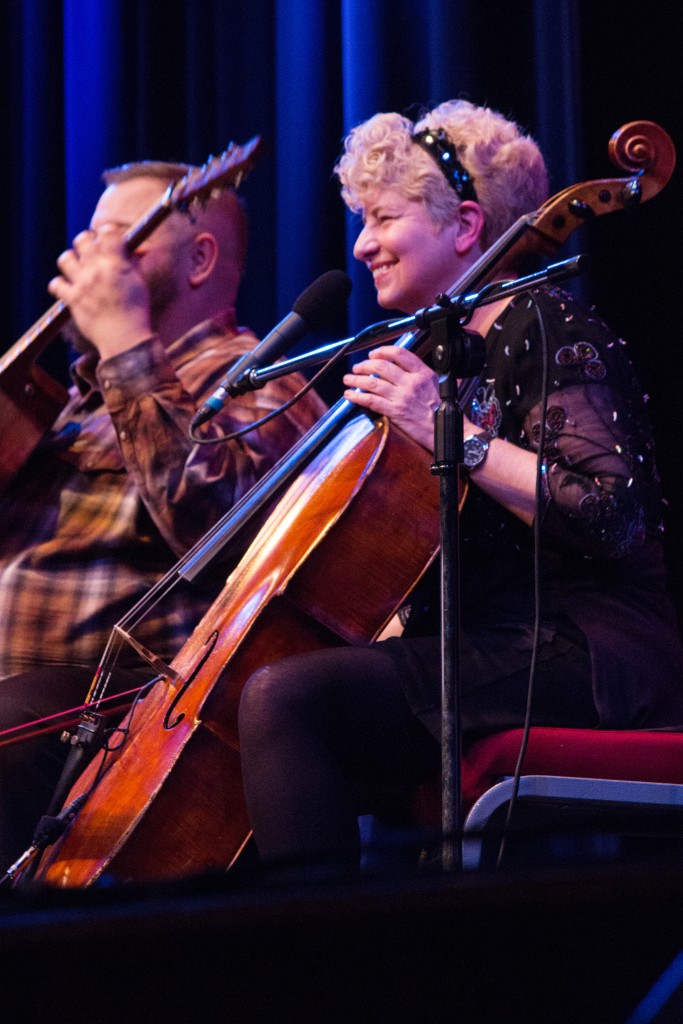 Nationally-profiled stringed duet Cello-Bella took to the Williams Auditorium stage to bring a modern twist on throwback songs.
On Saturday Feb. 6, the cello-guitar twosome was invited to perform for the most recent installment of the Ferris Arts and Lectures series. The pairing consists of Alison Donahue's jazzy cello and Mike Wilhelm's blues guitar, combined to support both with their soulful vintage vocals. A few days before the performance, Wilhelm fell sick, so temporary replacement Ben Luttermoser performed guitar for the Ferris audience.
The duo performed over 20 songs, ranging from remixed flapper songs to Popeye themes to modern day soul twists. This style of music is what Cello-Bella has been performing together for the past six years.
"I grew up hearing jazz standards and always had a love for them," explained Donahue. "This was an opportunity for me to combine my love for singing with my cello experience. The words in songs can be so evocative and to be able to express this is what I always wanted to do."
Despite the fact that one half of the duo was temporarily replaced, tempos were improvised and lyrics were changed. Donahue and Luttermoser shot playful banter between each other, keeping spirits in swing and the mood light. The pair radiated energy as each song was divided with friendly raillery between the two and with the crowd.
"I had to transition from a classical chair cellist to this," said Donahue during the performance. "It's a good example to encourage anyone who wants to do something a little out of their comfort zone to just try it."
The string duet brought in an audience of many ages, students and seniors alike in their seats to hear the self-proclaimed songbook of "jazz, swing and pop standards from the 20s to the current day."
"I had never heard of them before tonight, but I thought the show was amazing," said Ferris criminal justice alumnus Allen Adams. "I came to this event not knowing what to expect but I'm really glad I came."
Cello-Bella has been featured on National Public Radio, performed at multiple festivals and concert series around Michigan and they have music available on many online music retailers.