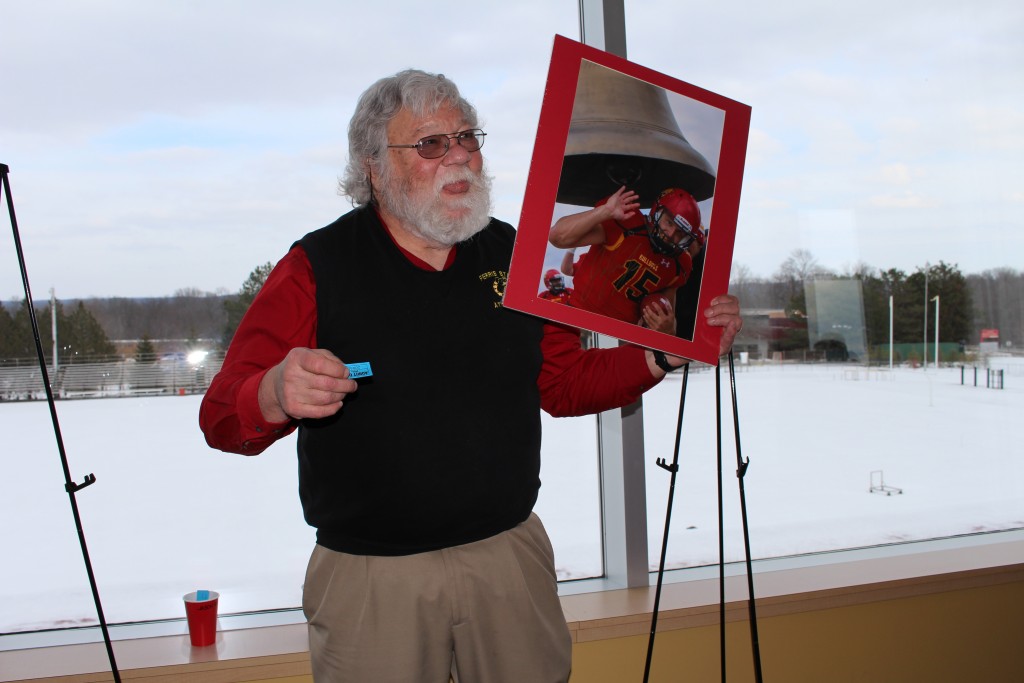 Not even the promise of free food was enough to attract students to the Ferris State football Super Bowl pre-game raffle at Top Taggart Field on Super Sunday.
As part of the Festival of the Arts, the event was meant to tie Ferris State and its surrounding community of Big Rapids to a common cause—celebrating the arts.
"We were looking for a way to unite the community of Big Rapids with Ferris, so we came up with this idea of jointly sponsoring, jointly funding and jointly locating art events every day of the month. I believe we have 74 this year," Coordinator of the Festival of the Arts Bruce Dilg said.
Because athletics are such a significant part of the Ferris State culture for many students and alumni, it was only a matter of time before they became a part of the festival.
"This was our first attempt at doing something like this, the Super Bowl always comes in the middle of the festival, so we wondered what we could do to try and tie the festival together," Dilg said.
The event promised free food and showcased 13 total pieces of art and autographed memorabilia to be raffled off, many of which bore the signature of NFL hopeful and two-time Harlon Hill Trophy winner Jason Vander Laan. Still, the staff working at the event and four Ferris State football players made up the overwhelming majority of the crowd.
"I'd like to see more people here, but it's one of those events that you don't know how it's going to come off. We have the pregame stuff on one screen and Ferris highlights on the other. I was really hoping we would have some students here today with free food and stuff, but getting through to students is tough," Dilg said.
Despite the fact that the amount of students in attendance could be counted on one hand, the student athletes on hand were still thankful for those that did make the trek to Top Taggart.
"We're just going to keep being good men and giving back to the community. Thank you to everybody for coming out and supporting this event, it means the world to us," said Ferris sophomore offensive lineman Jake Daugherty, who won the most pieces of Ferris memorabilia in the series of raffles.
This event was not the first attempt at weaving art and athletics together, and it will likely not be the last. Previous efforts to introduce the two include last year's roaming guitar player at a Bulldogs' hockey game, and a mariachi band at a home basketball game.
"It's been really interesting to take 2,000 sports-oriented people and expose them to some fine art. We've gotten very good reception," Dilg said.