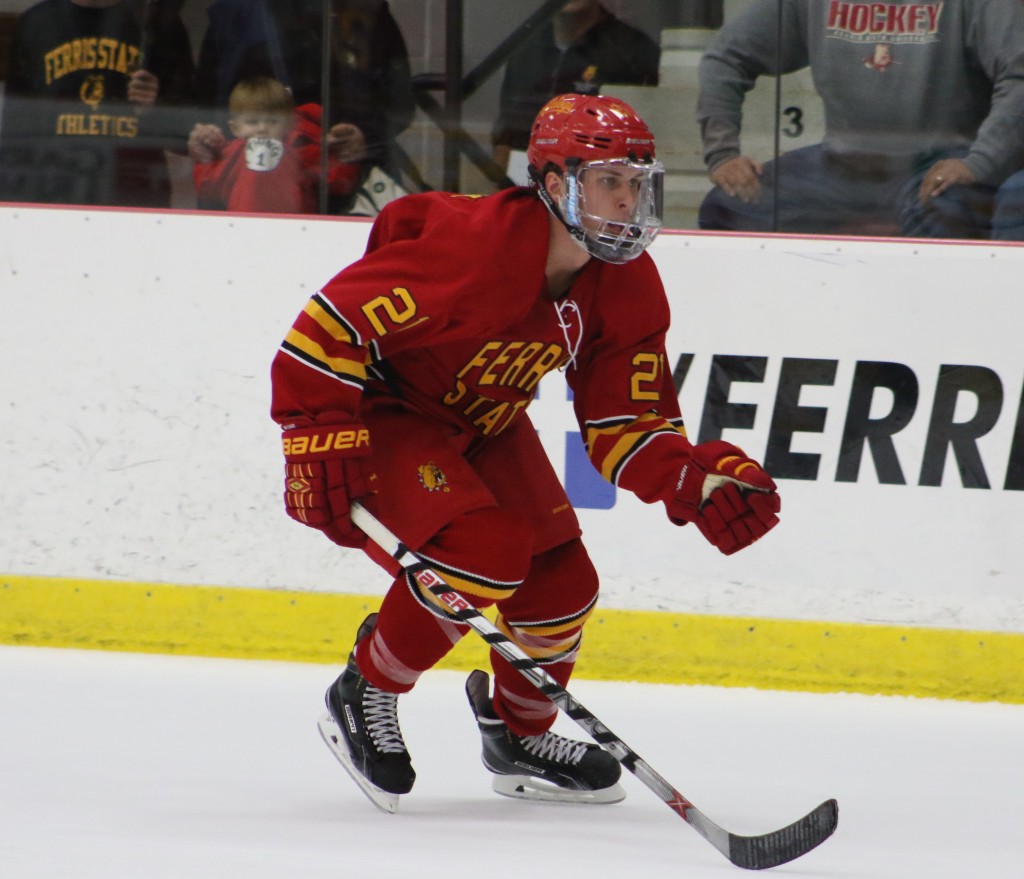 The Dawgs were able to chase off the 'Cats as Ferris State hockey defeated the Northern Michigan University (NMU) Wildcats in a 5-1 victory in front of a sellout Dawg Pound.
A defensive battle in the first period made it so that neither team could put a point on the board. Bulldog freshman goalie Darren Smith put on a great performance early on with seven tough saves. Smith was not the only goalie playing well, though, as NMU goalie Atte Tolvanen totaled 22 saves in the first.
It was not long after the second period started rolling that Bulldog sophomore forward Mitch Maloney found the back of the net at 1:03 off the rebound of senior forward Matt Robertson's shot to give the Bulldogs the 1-0 lead. The next score came courtesy of Bulldog sophomore forward Drew Dorantes at 10:41 with assists from freshman forward Corey Mackin and senior defensemen Brandon Anselmini.
The Bulldogs dominated the rest of the second period as they scored two more goals. The first came from senior defensemen Simon Denis at 17:18 with assists from junior forward Gerald Mayhew and Mackin. They did not stop there, though, as senior forward Kenny Babinski scored off of assists from Drew Dorantes and Mackin at 18:32 to make it 4-0 at the end of the second. Mackin tallied his third assist of the night on the Babinski goal.
NMU finally got things rolling at 5:27 in the third when sophomore forward Robbie Payne slipped one by Smith with assists from senior defensemen Barrett Kaib and junior forward Dominik Shine to make it 4-1 Bulldogs. Not long after, the Dawgs followed the Wildcat score up with one of their own as Jacob Hetz sent a missile by Tolvanen at 7:48 to seal the game at 5-1 with assists from sophomore defensemen Tyler Dorantes and freshmen forward Trevor Recktenwald.
The Bulldogs finished the night with 47 shots on goal and NMU ended with 27. The Dawgs will be looking for their second weekend sweep of the season tomorrow. Ferris hockey has not lost since Jan. 1.
The Bulldogs will continue the weekend series as they host the Wildcats again tomorrow night, Feb. 13, at Ewigleben Ice Arena at 7:07 p.m. If you plan on attending the game remember to join the red out and wear red in support of heart health awareness.