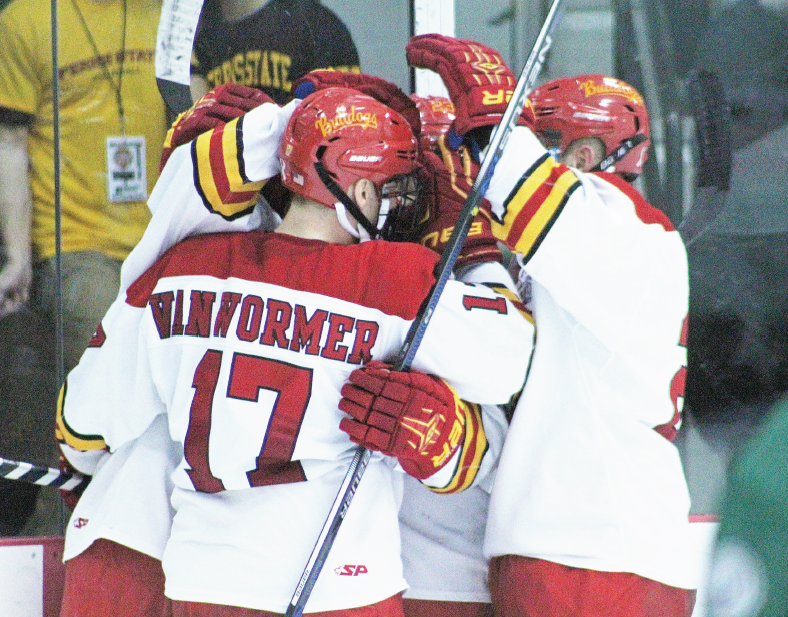 Ferris State hockey is preparing for a trip to Ann Arbor for a matchup with the Michigan Wolverine hockey team.
The Bulldogs will only have one game this weekend when they make the trip to Yost Arena on Friday, Feb. 20. The nationally sixth-ranked Wolverines (18-4-5) have only taken one home loss so far in 2016, one less than the Bulldogs (14-10-6) who have only taken two home losses this year, one coming just last Saturday against Northern Michigan University.
In the 2014-2015 season opener, the Bulldog hockey team beat the Wolverines 4-3 in front of a sellout crowd in Big Rapids. Junior forward Chad McDonald led the Dawg's scoring push that night with two goals. Both teams were ranked nationally in the top ten at the time.
Ferris Hockey currently sits in fourth place among the WCHA standings and has already sealed themselves a position in the WCHA Playoff picture. Even though Ferris will be in non conference action on Friday, the team will not be able to kick their feet up and relax against a quick Wolverine team and that means business according to Head Coach Bob Daniels.
"I'm really looking forward to that game, I'm looking forward to the experience for our guys because it's a heck of an environment," Daniels said. "Michigan has got a really, really good team and they are going to play at a tempo that we probably have not really seen this year. They play at a very high pace."
Daniels is right, as Michigan has been able to tally 60 goals since the start of the 2016 season, which almost doubles Ferris State's total 2016 goals of 32, a sign of a fast-paced offense. According to freshman goalie Darren Smith, the Bulldog defense, which has been stepping up in recent weeks, is going to need to remain dominant.
"We have been working on our defensive zone in practice and it is showing in games," Smith said. "The whole team has done a great job of limiting scoring chances which has been making my job a lot easier. It also helps that different guys have been stepping up and contributing at both ends of the ice."
Michigan's Tyler Motte, younger brother of former Bulldog goalie C.J. Motte, has been dominant in the scoring category and recently added onto his 11-game goal-scoring streak with another goal last Saturday. With 27 goals total so far on the season, Motte leads his team in the category as well as the Bulldogs, whose top scorer, junior forward Gerald Mayhew, has 10 so far.
Mayhew spoke about why he feels that this Bulldog team has been so dominant over the past several weeks.
"Everyone seems to be playing with confidence and that is a huge component," Mayhew said. "Also, I think we are doing the little things like back checking with a passion and minimizing the turnovers. We have to keep playing a full 60-minute game with few mistakes and win the one-on-one battles and we should be just fine."
It will not be an easy night for Bulldog hockey, but the team has shown that they have what it takes to compete with any collegiate team. The puck drops at Yost Arena in Ann Arbor at 7:35 p.m. on Friday, Feb. 19.
To read about the Bulldog's win at the 2014-2015 opener, click here.