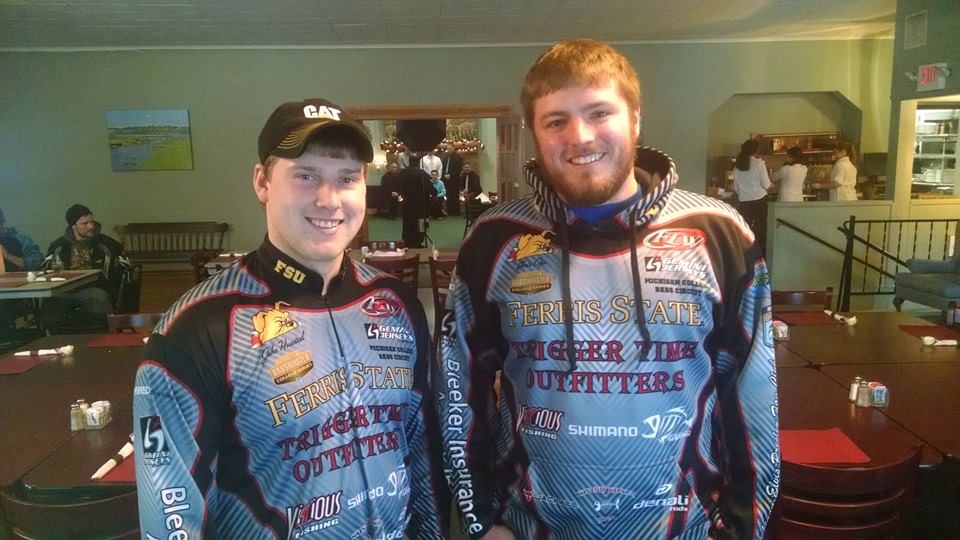 Two members of the Ferris State Fishing Club are making a name for themselves on a national stage.
Construction management senior Jacobitz Huested and HVAC junior Chris Oja teamed up to become the first National Champion Collegiate Ice Fishing team in the nation.
The duo earned the top spot in the college series of the North American Ice Fishing Circuit Championship at Mille Lacs and Knife Lakes in Isle, Minn. on Feb. 6 and 7. During the two-day tournament, each day participants bring in 16 fish to be weighed.
The first day on Mille Lacs, contestants were to bring in up to 16 perch to the weigh-in, while the second day on Knife Lake consisted of anglers weighing eight bluegill and eight crappie. The Ferris tandem's two-day total was 8.09 pounds, with their biggest catch weighing in at 0.62 pounds on Knife Lake.
The event was initially supposed to be held in December of 2015, but was rescheduled for February due to weather conditions. Typically, sporting events are canceled due to cold weather, but the opposite was the case here, as the ice was not safe during the original planned date of the event.
Huested said that his favorite part of fishing in the tournament was the atmosphere of fishing in the competition.
"In Michigan, ice fishing is a big thing around here. It's more getting into the tournament aspect and having actual competition to compete against," said Huested.
This isn't the first time that the duo has made noise on the water. Last February Huested and Oja became the first college team to qualify in the series' history.
The Ferris State Fishing club is a Registered Student Organization (RSO) at Ferris and currently has seven active members. The club meets every Monday at 7:30 p.m. and are welcoming to anglers of all skill levels. For more information, visit the team's Facebook page or their website at www.fsufishingclub.weebly.com.