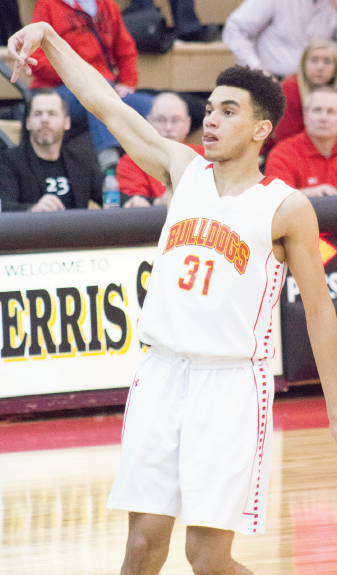 Ferris men's basketball will get a chance at revenge against the GLIAC best Saginaw Valley Cardinals on Saturday, Feb. 20.
Ferris beat Saginaw Valley on Saturday, Jan. 30 in most statistical categories except the one that counts—the scoreboard. The Bulldogs lost 74-72.
Head Coach Anthony Bronkema said, "We just didn't hit open shots."
Bronkema reiterated that statement when talking about the Dawg's 91-84 loss to the Northwood Timberwolves. The Wolves consistently hit perimeter shots with hands in their faces while the Bulldogs struggled to hit wide-open looks.
"We got caught off guard and sleeping," said Bronkema in regards to Northwood.
The Dawgs were not caught off guard against the Cardinals when Ferris held them to a season low 38.6 percent shooting. The Bulldogs put forth a great defensive effort but shot only 36.5 percent.
This poor shooting is uncommon for Ferris which is fourth in GLIAC shooting percentage at 47.2. The Dawgs average 39 percent shooting in their last three losses, a trend that they hope to see end.
Brokema said, "At this point in time, we are who we are. We've been missing shots, but we just have to make a few plays here and there, play harder in certain situations and we'll see what happens."
Ferris started the year with a goal to win the regular season, but the focus has shifted to earning the highest tournament seed possible. The Bulldogs are fourth overall in-conference at 13-6 with three games left. They could shake up the GLIAC playoff picture by knocking off the top-seeded Cardinals.
Bronkema said, "It's gonna be a good game in Saginaw. They've been the top team from beginning to end and we'll be looking to knock them off."
The Dawgs open this week's action against No. 6 in-conference Hillsdale at 8 p.m. in Big Rapids on Thursday, Feb. 18 and play Saginaw Valley away at 8 p.m. on Saturday, Feb. 20.