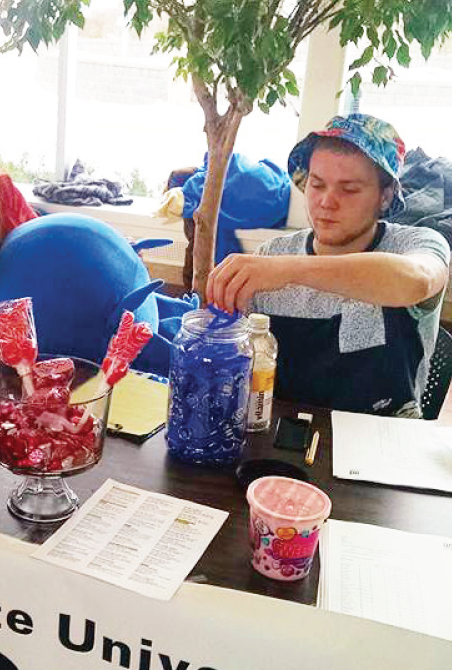 If anyone loves discounts, it's college students.
Local Big Rapids and surrounding area businesses have teamed up to create the Band of Locals, which encourages community members to shop local by offering "blue bands" in exchange for discounts on products, food and services.
For $10, anyone in the community can purchase a blue wristband, including Ferris students. These wristbands never expire, and can be used over and over at local participating businesses, including Biggby, The Old Pioneer Store, Crankers and over 100 others.
The band pays for itself over time, since all a band-holder has to do is show their band to receive a discount for every applicable purchase. Participating businesses are marked with a blue Band of Locals decal on their window or door.
Ferris Registered Student Organization (RSO) AdGroup is selling these wristbands on campus, as well as certain participating businesses like Sears and The Old Pioneer Store.
Ferris advertising and integrated marketing communications sophomore Dani Sanchez bought her blue band from AdGroup on Tuesday, Feb. 9.
"I haven't used it yet, but I will definitely be using the discounts," said Sanchez. "It's a really cool concept and looks like it has benefits for both sides. We get a discount and the businesses in town get an increase in customers. I think it's awesome that so many businesses in Big Rapids are coming together to make this possible."
Ferris business management junior Katie Beidler also purchased her blue band from AdGroup.
"I got it on Monday [Feb. 8]. I think it's a great idea," said Beidler. "I love the fact that it doesn't expire—that gave it the extra edge. The fact that I can use it from now until I leave made it so much more worth it, and I think it's smart for the local businesses to be onboard with the Band of Locals because it gives them more publicity, and I'm more inclined to go places that offer me these discounts."
To learn about purchasing a band from AdGroup, visit their Facebook page at www.facebook.com/FerrisAdGroup.
For a complete list of discounts and participating businesses, go to www.bandoflocals.com.