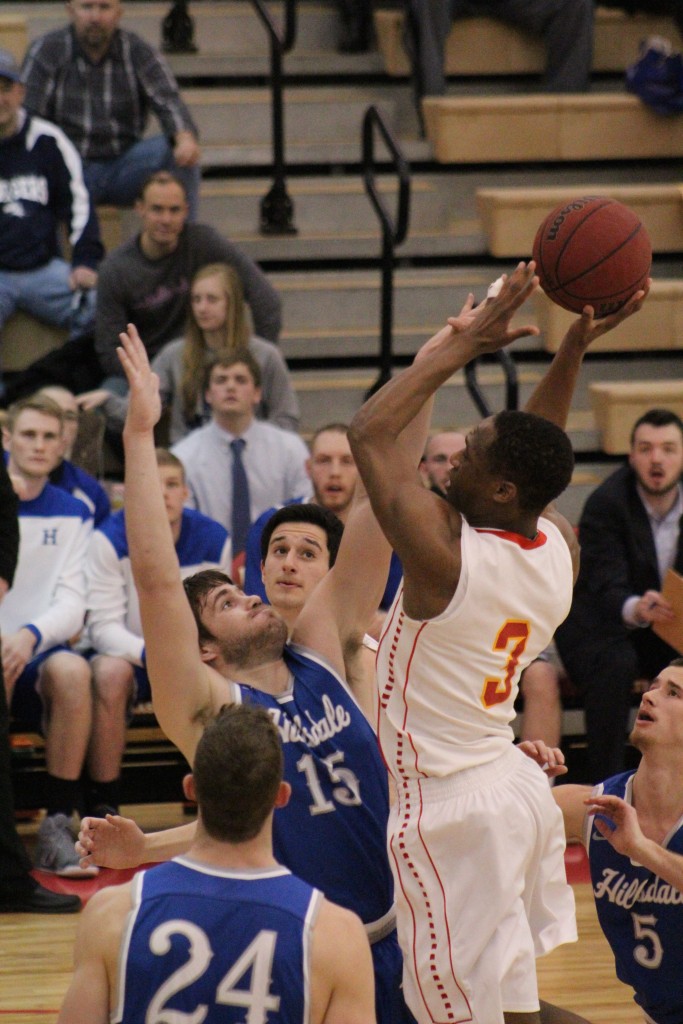 A late second half charge wasn't enough for the Ferris State men's basketball team to walk away with a win on senior night.
The Bulldogs, who trailed by as much as 20 in the contest, fought their way back to cut a Hillsdale lead to six with 4:22 left in the contest, but made it no closer in an 88-70 loss. This marks the third straight game that the Bulldogs have ended up on the wrong side of the scoreboard.
Ferris junior guard Quentin Ruff came off the bench strong for the Bulldogs with a team-high 19 points, 15 of which came from behind the arc as Ruff shot 5-of-7 from three-point range.
He was joined in double figures by seniors James Chappell and Jared Stolicker, who put up 13 and 10 points respectively. Chappell added six assists and seven boards while Stolicker tacked on eight rebounds and five blocks in the game.
Two other Ferris seniors who were honored on senior night, Josh Fleming and Jibreel Jackson, added nine points and six points in their last game at Wink Arena.
The Dawgs had a tough time stopping Hillsdale sophomore Stedman Lowry, who shot 10-of-16 from the field, and 7-of-11 from three for a game-high 29 points. Bailey was on the floor for 39 of the game's 40 minutes along with senior teammate Kyle Cooper who had 19 points and 10 rebounds for the Chargers.
With the loss, the Bulldogs fell to 19-7 overall and 13-7 in the GLIAC, which leaves them tied for second in the North Division with Lake Superior State, and two wins ahead of a three-team cluster stuck at 11-9.
The top three teams from the North and South Divisions, plus the next two teams with the best records will make it into the conference tournament. The Dawgs have a tough game ahead of them against best in conference Saginaw Valley State on the road on Saturday, Feb. 20. The game is set to begin at 8 p.m.
More photos from the game can be seen below.
https://fsutorch.com/2016/02/19/photo-gallery-fsu-vs-hillsdale/