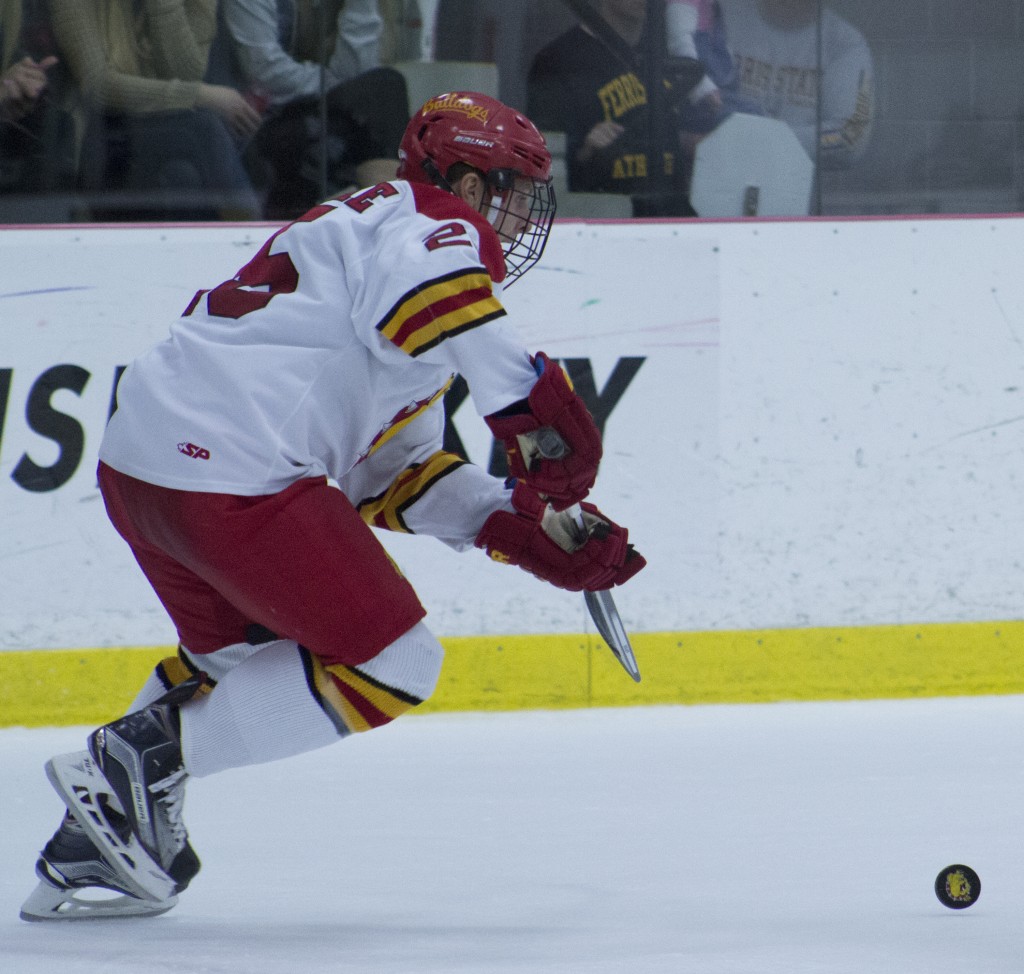 The Ferris State hockey team had a tough time slowing down the high-powered Michigan Wolverine offense in a 5-2 loss in Ann-Arbor on Friday night.
Division I college hockey's leading goal scorer, University of Michigan junior Tyler Motte scored his 28th goal of the season to start the scoring at Yost Arena just five minutes and 48 seconds into the contest. The goal extended Motte's goal scoring streak to 12 consecutive games.
The Wolverines struck again in the first period when junior Alex Kile buried a rebound off a wrap-around shot by freshman Kyle Connor, who was awarded the assist along with fellow freshman Cooper Marody.
Ferris State came out slow in the second period and relied heavily on freshman goalie Darren Smith to keep them in the game. Ferris State senior Kenny Babinski built off Smith's momentum and netted a power play goal on a deflection from junior Chad McDonald. Senior Matt Robertson also received an assist on the goal for FSU.
As soon as the Bulldogs cut the lead to one, the Wolverines got it back to two on a power play goal by Connor just two minutes and 29 seconds after Babinski's goal. Kile and junior JT Compher assisted on the Wolverine goal.
Later in the second, it appeared that the Bulldogs had netted another goal, but the play was blown dead before the puck squeezed through the pads of Michigan senior goaltender Steve Racine.
The Wolverines ran away in the third period, as the Michigan offense kept the pressure on the Bulldogs. Just a minute and a half into the period, Michigan sophomore Zach Werenski scored off an assist freshman Joseph Cecconi to make the score 4-1.
Kyle Connor would net his second goal and fourth point of the night just under halfway through the third to extend Michigan's lead to four. Marody and Motte assisted on Connor's goal.
The last goal went to Ferris State sophomore Drew Dorantes with some help from junior Jared Van Wormer and sophomore Tyler Dorantes, but ultimately the Wolverines got the last laugh as they skated out of Yost Arena victorious.
Ferris travels to Ohio to take on Bowling Green next weekend, Friday and Saturday, Feb. 26 and 27 in a WCHA matchup.