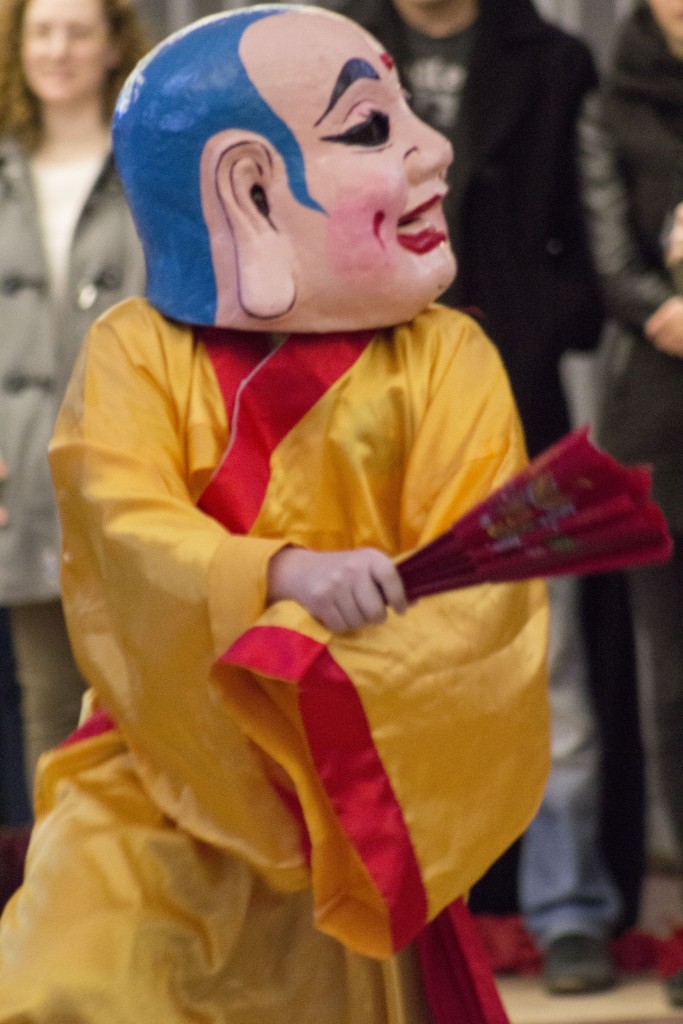 Orange and white lions danced with a small, masked master of ceremonies to celebrate the Chinese New Year in the Interdisciplinary Resource Center (IRC) last Friday.
The Office of International Education invited Tai Chi martial artists from the Oriental Martial Arts Center in Grand Rapids. A Ferris student sang a traditional Chinese folk song and there was food catered for the students and guests from the China One Buffet in Big Rapids.
"The Chinese New Year is about every family getting together," said Ferris accounting freshman Pei Xia. "During the year we are so busy: I'm a student and my parents both work, so we have no time to be together. So when the New Year comes, we can be together and enjoy the new spring festivities. It's about families, the bigger Chinese family and happiness. So this one is hard for me because it's the first year I'm away from my family, and I feel a little homesick."
Xia sang a Chinese folk song, which in English is called "Finally I Still Have You," after dinner was served.
"The song is a loving song. It's about how a girl loves a boy, and the boy left, but she still loves him all alone," said Xia.
Students and instructor John Jiang from the Oriental Martial Arts Center in Grand Rapids came to participate in the festivities and show off the skills and discipline they've been training for in Tai Chi and Wu Shu martial arts.
"I'm from China," said Jiang. "I came to the United States in 1988 and I'm still working on becoming fully Americanized. I grew up in China during a time when martial arts where completely forbidden for people to practice. Now I practice Tai Chi and I teach Tai Chi at Calvin College. If you think Tai Chi is too slow or for old people, now you can be wrong."
About 200 students and guests turned out to see the festivities, despite the rain and the wind gusting outside. Ferris automotive management and fleet management senior and event organizer Steve Sipos suspected it was the food that played the primary role in getting people out.
"The Chinese New Year and festivities is a celebration of life and happiness," said Sipos. "We were looking for a good turnout, but when we saw the smiles and laughter from the kids during the lion dance, what we discovered is it's more about happiness."
Sipos organized the event with the Office of International Education as a way to do something different and get more experience organizing events.
"Last year we didn't have a Chinese New Year event on campus. We would like to start it again, and we would like more involvement for next year," said Sipos.