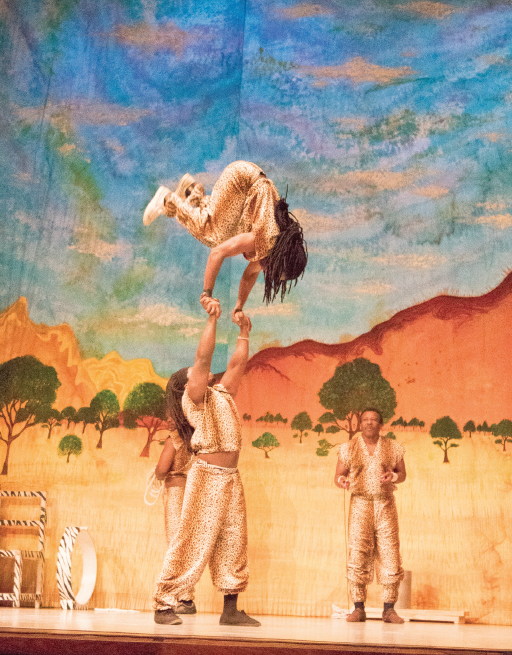 The rhythmic cadence of African drums harmonized the sound of constant applause as the celebrated ZuZu Acrobats performed a daredevil display.
On Sunday, Feb. 21 in Williams Auditorium, an audience of more than 150 students, families and community residents were present to witness what many of them described as a "seemingly impossible" circus routine.
The international act, originally from Mombassa, Kenya, consists of five men averaging five feet in height. Though small, they appear many times larger on stage.
The hour-long performance was heavy in high-energy dance routines and punctuated by a constant barrage of flips, dips, loops, twirls, twists and tumbles, with the performers using each other as the primary props.
"I was pretty amazed by their willingness to put themselves at risk multiple times," said Big Rapids High School senior April Finkiewicz.
The performers are impressive enough in groups of two or three, but it is when they combine—arm-in-arm, foot-on-shoulder— to create stacked aerial formations of four or more that leaves audiences baffled. At an estimated 150 pounds a piece, the combined weight of four performers create a force of 600 lbs. resting on one man's shoulders as he walks across the stage.
"I thought it was outstanding when they climbed on top of each other," said Ferris forensic biology sophomore Robyn Johnson. "One person was holding all of them and walking forward."
In a scene dominated by American, European and Asian influence, ZuZu brought a uniquely African approach to conventional circus performance. With backdrops reflecting a savannah wilderness, costumes reflecting traditional Kenyan attire and a tribal drum-inspired soundtrack, the acrobats of ZuZu give a visually stimulating demonstration of gymnastic ability enriched with culture.
"We like to try to get to events with multicultural perspective," said Martiny Township resident Randall Westfall. "My two-and-a-half-year-old daughter loved it."
"It's the agility of the performance, not just the balance," said Westfall.