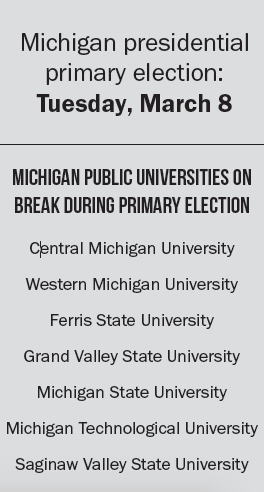 Vote.
Whether your spring break plans include relaxing and surfing at Panama City Beach or on your couch at home, it's important that Michigan's March 8 primary doesn't pass you by.
Candidates on both sides of the political spectrum are vying for the youth vote. With seven public universities in Michigan on spring break during primary week, youth voter turnout could be affected.
On one hand, students on vacation might miss their chance to make it to the polls. On the other, students returning home to the precincts they're likely registered to vote in could increase turnout.
Only 45 percent of eligible voters ages 18 to 29 actually voted in the 2012 presidential election, representing 19 percent of the total vote.
So vote.
Coverage of the 2016 election began immediately after the results of the 2012 election were announced. In a seemingly unending campaign season, primary elections have grown in importance over the last few decades.
The Torch reported a turnout of more than 6,000 at a Donald Trump rally in Grand Rapids in December. Bernie Sanders drew around 9,000 recently in Ann Arbor. Trump, Sanders and other candidates for president have radically different visions for the future of America. The stakes are high.
So just vote.
Those unable to vote in person are still able to vote using an absentee ballot. A Michigan absentee voter ballot can be obtained through the City Clerk's office in your voting precinct. Some precincts require a letter of explanation to apply for the ballot. It's a small chore in exchange for a voice, a say in how things should be.
We vote all the time on social media. If your Facebook looks like mine, it's littered with political opinions, some of which may be your own. Before you repost that GIF of Trump's goofy hair or that illustration of Sanders wielding a lightsaber, let your opinion be heard the right way and, say it with me…
Vote.
If you're registered to vote in Big Rapids, a simple application can be filed for an absentee voter ballot up until the day of the election at Big Rapids City Hall, located at 226 N. Michigan Ave.
Four democrat and 14 Republican candidates are listed on the official Michigan ballot. Donald Trump and Hillary Clinton are currently leading in the Michigan polls.