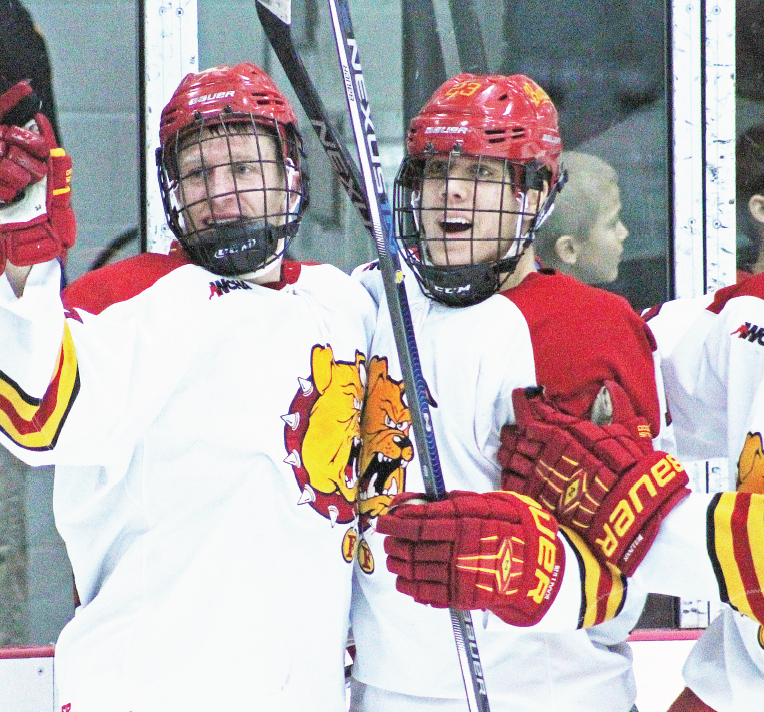 Ferris hockey will play No. 2 in-conference Bowling Green this weekend with WCHA tournament seeding up for grabs.
With four games left on the schedule, the WCHA tournament is far from set. Ferris is tied with Northern Michigan at No. 4 in the WCHA and is looking to move up. The first step is the Bowling Green Falcons.
Senior defender Simon Denis said, "These games are huge. It takes pride to go and steal two games in their rink. If we could steal four points that will definitely put us ahead in the standings."
Last year, the Falcons took the first matchup 4-1. The Bulldogs took the second game 3-2 in overtime.
Junior forward Kyle Schempp said, "These are the biggest two games of the year. It's going to be a fun weekend, but a tough weekend."
Ferris had an eight-game unbeaten streak broken by Northern Michigan on Saturday, Feb. 13 then suffered another loss in front of 6,000 people at Michigan on Friday, Feb. 19. They will look to end the two-game losing streak this weekend.
The Dawgs are sitting five points out from first while Bowling Green is tied with Michigan Tech for second, sitting two points out of first place. Minnesota State sits at the top with weary eyes as the competition gains ground.
Despite how the seeding shakes out, Denis is confident his team can win a championship. The gap between teams is slim this year with Minnesota State tying with league worst Alabama-Huntsville on Friday, Feb. 12.
Denis said, "If we're in the tournament, I believe we can win a championship."
Ferris has proven it can play with the top team in the conference. Earlier this season, these teams split the series. Ferris won the first game 7-4 but lost the second 3-2.
Schempp said, "We matched up well against them in the beginning of the season. We feel confident playing any team. We're just going to play our game."
The games are at Bowling Green starting at 7:07 p.m. on Friday and Saturday, Feb. 26 and 27.