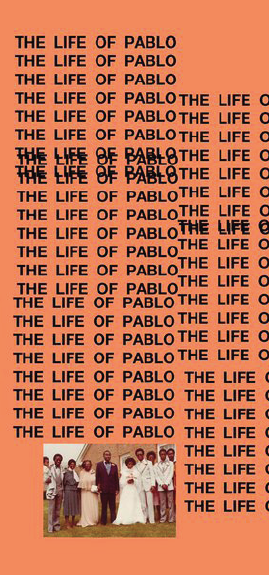 After outside business ventures, name changes, Twitter battles, recording and release setbacks, Kanye West's seventh studio LP "The Life of Pablo" (TLOP) is finally here.
Released by GOOD Music and Def Jam Recordings on Feb. 14, the 18-track collaboration rap album is only available for purchase off of the streaming service Tidal, although reportedly it has been illegally downloaded over 500,000 times.
TLOP differs from Kanye's previous six albums in that it does not offer a clear statement. There is not necessarily a central theme to the album, an element that's been apparent in his past albums. There are total hits, a gospel song, instrumental intermissions, Kanye ranting about himself and lines where the listener thinks, "Did Kanye really just say that?"
Here are some notable tracks:
The album opens up with an outstanding gospel song, "Ultralight Beam." Chance The Rapper drops an excellent verse and gospel musician Kirk Franklin closes with an outro sounding more like a preacher than a singer.
Music industry management junior Jacob Evans said Chance's verse is the best moment on the album. Evans also said Chance stole the show during Kanye's recent Saturday Night Live performance.
A few tracks later we receive the dual threat of "Famous" and "Feedback." Both songs present attitude and are fun and hype. "Famous" opens with a beautiful intro from Rihanna and Kanye comes in with his "Did Kanye really just say that?" line about making Taylor Swift famous.
Later on, Kanye blesses us with a 45-second a cappella rap song entitled, "I Love Kanye." Kanye begins with, "I miss the old Kanye" and goes on to mention Kanye 24 more times during the next 45 seconds.
On the second half of the album, "FML," "Real Friends" and "Wolves" appear forcefully back-to-back-to-back. Kanye's verses and The Weeknd's hooks are ominous and emotional in "FML." "Real Friends" has Kanye and Ty Dolla $ign going back and forth singing about being used by friends over a soft, uplifting melody. "Wolves" closes out the trifecta with an airy atmosphere as Kanye explores his emotions, such as depression, fear, hope and love. Frank Ocean closes with a beautiful outro.
Toward the end Kanye sets "No More Parties in LA" and "Facts"(the Charlie Heat version) back-to-back. Kendrick Lamar places a great verse on "No More Parties in LA." Yeezy's opening hook, "Yeezy, Yeezy, Yeezy just jumped over Jumpman" in "Facts" will become classic as he pays homage to Drake and Future's hit. He goes on to create songs that call out someone or something different almost each line.
Right now, I do not know where to place TLOP in the order of best Kanye albums. "My Beautiful and Dark Twisted Fantasy" and "Yeezus" are currently superior as they are arguably two of the top albums of music this decade. TLOP is an album that will take time to grow on the listener. The hits are clear, but there are a number of tracks that challenge the listener to take many in-depth listens. When Kendrick's 2015 album, "To Pimp a Butterfly" (TPAB) was first released, fans thought Kendrick had let them down. By the end of the year TPAB was regarded as the indisputable album of the year. Maybe TLOP will be, too.