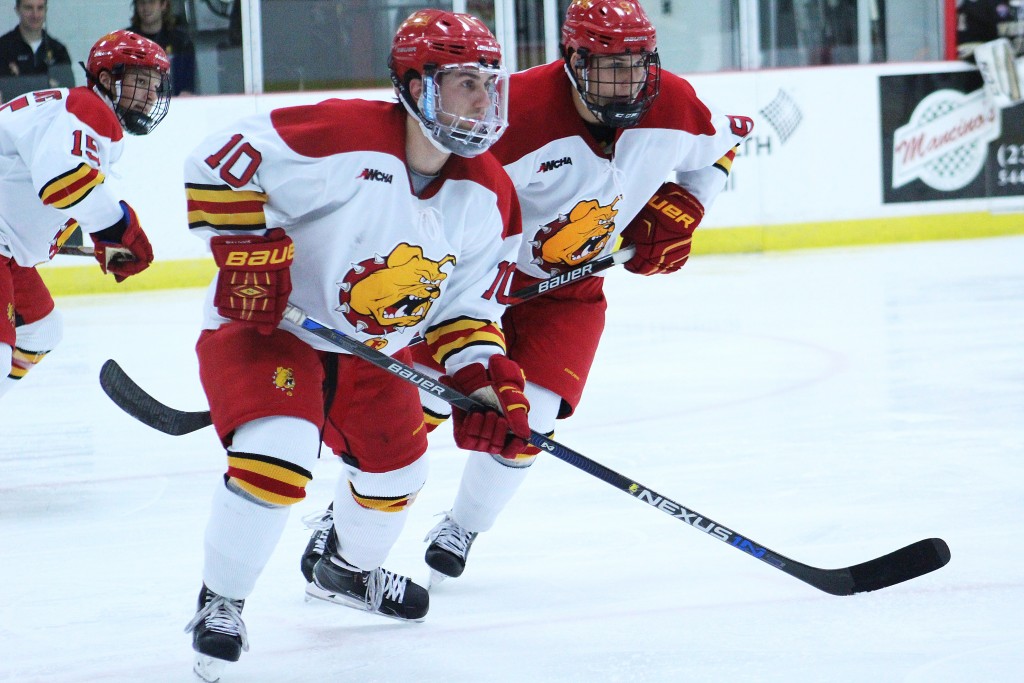 The Ferris State hockey team was swept for the first time this season last weekend in a series against the Bowling Green State University Falcons.
The Bulldogs struck first in both contests but had difficulties holding onto their leads, especially in the third period. In the first game, Ferris freshman forward Corey Mackin put the Dawgs on the board four minutes and 24 seconds into the game.
Ferris sophomore forward Andrew Dorantes would add another goal just 57 seconds into the second period. Bowling Green would strike back with two quick goals in the second to lock the game at 2-2 before Ferris State senior defenseman Sean O'Rourke would score the final goal of the second to put the Dawgs up 3-2.
The third period was a tough one for the Bulldogs as they gave up a power-play goal early in the period, and a final game-winning goal with just under three minutes left in the contest to give the Falcons a 4-3 victory.
The Dawgs had similar third period troubles against the Falcons in the second game of the series on Saturday night.
With the score tied 1-1 going into the third period, junior forward Kyle Schempp scored 49 seconds into the period, but then the Bulldogs' defensive levee broke. Bowling Green would go on to score five goals in the final period to take the game by a score of 6-2.
Ferris currently sits at No. 5 in the WCHA, one point behind Northern Michigan for the No. 4 spot. The top eight teams in the WCHA make the post-season, so the Bulldogs have guaranteed themselves a spot.
Though they have guaranteed a spot, the top four teams get home ice advantage in the tournament, so their upcoming weekend could determine whether or not the Dawgs will return to play in Ewigleben for the playoffs.
The Bulldogs will finish off their regular season on Friday, March 4 and Saturday, March 5 when they host Lake Superior State at Ewigleben Ice Arena in Big Rapids. The puck drops at 7:07 p.m. on both nights.