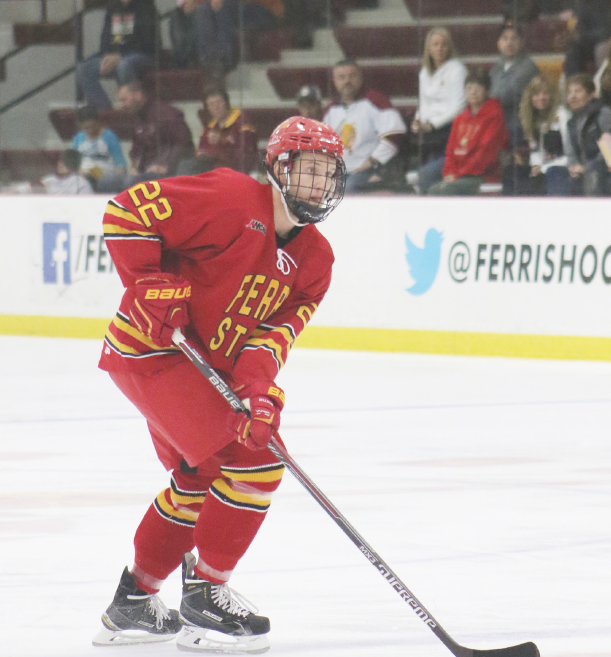 Bulldog hockey (14-13-6) has only two regular season games left before the WCHA Playoffs and for the team's seven seniors, this weekend determines whether they'll play in Ewigleben Ice Arena again.
Ferris State will host the Lakers of Lake Superior State this weekend, March 4 and 5 in a two-game series to finally seal their spot in a playoff picture for another chance at the Broadmoor Trophy.
The Dawgs fell from their No. 4 spot in the rankings to No. 5 when they lost back-to-back games to Bowling Green last weekend, making their chances of receiving home ice a little more slim. Senior forward Kenny Babinski will not be taking the opportunity at another shot to play in Big Rapids for granted.
"I am going to miss Ewigleben Arena itself and the atmosphere that is created by the fans each and every night," Babinski said. "I have never played in front of such a dedicated and spirited fan section as The Dawg Pound."
Babinski notched three of his eight total goals so far this season in front of the Bulldog fans inside Ewigleben. He gives a lot of credit to head coach Bob Daniels and the rest of the coaching staff when discussing his and the other seniors' time at Ferris.
"Coach Daniels and the coaching staff have taught me a lot as far as my game and in other aspects of life," Babinski said. "They have all done a great job in teaching me how to conduct myself, not only on the ice, but off the ice as well. Coaches Mark Kaufman and Drew Famulak have also taught me the type of player I am and how to use it to my advantage."
The Bulldogs are going to be fighting Northern Michigan (NMU) for the last home ice spot as NMU moved ahead of the Dawgs by one point by the end of last weekend, but Ferris still has four points available to grab when they take on Lake Superior State. Strength and conditioning coach Dave Cencer said that the home crowd will play a role in support of the Dawgs.
"We love our home crowd and the excellent support we get, not only from the students but from the community, so we are looking forward to being home again next weekend and then hopefully we can play well and continue on the positives," Cencer said. "We always say that you can't guarantee results but you can guarantee performance."
No matter the outcome of the playoff picture or even the whole season, senior defensemen Simon Denis said that he has gained more than just hockey memories in his time at Ferris.
"I think the best thing about these seniors over four years is how close we have become," Denis said. "You develop some great friendships in your time at college, and I know that I can always count on anyone in this class for anything, no matter when it may be. We truly are brothers."
Denis has seven goals and six assists so far during his senior year as a Bulldog. Denis also talked about what needs to happen to finish the season on a high note.
"We have done a good job in this second half of putting out our full effort every night and we need to continue to do that," Denis said. "We are confident that with the team we have right now, we can win a championship."
The weekend series against Lake Superior State begins Friday, March 4, when the puck drops at 7:07 p.m. in Ewigleben Ice Arena followed by Saturday night's game at the same time and place.