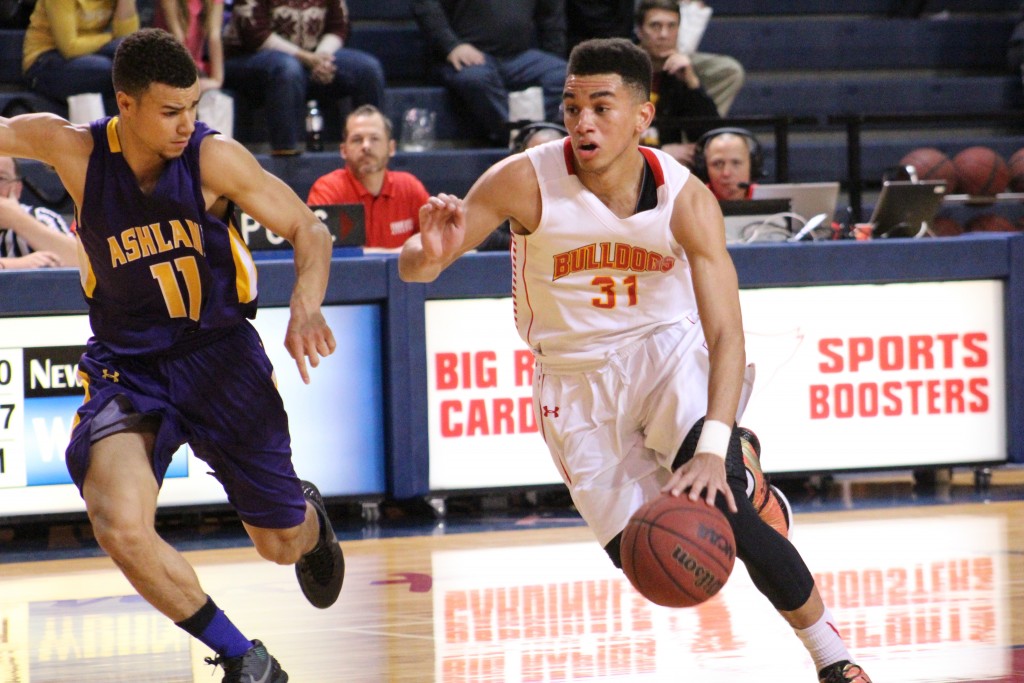 Ferris State sophomore guard Drew Cushingberry only scored nine points in a GLIAC quarterfinal matchup against Findlay University, but his last two were his most important points of the season.
After leading by as much as 14 points, the Ferris State men's basketball team gave up the lead and trailed the Oilers by one with 13 seconds left in the contest. Cushingberry took the ball to the lane and threw up a floater with time dwindling. The ball bounced off the back of the rim, popped up in the air and then fell through the net with just 0.7 seconds left in the game to give the Bulldogs a 62-61 victory to advance to the GLIAC semifinal game.
After losing five straight games going into the GLIAC tournament, the No. 6 seeded Bulldogs walked onto the No. 3 seeded Oilers' court as the underdogs, but left the floor victorious.
Ferris had a tough time guarding Findlay sophomore guard Martyce Kimbrough who scored a game-high 30 points on 9-of-25 shooting from the field, but Kimbrough's big night was not enough.
Ferris' bench and big men made a huge impact for the Dawgs. The Ferris bench outscored the Oilers' bench 25-4 in the contest. Ferris senior center Jared Stolicker led the Bulldogs with 15 points while redshirt freshman center Zach Hankins came off the bench to add 10 points.
Ferris State will take on the No. 2 seed Ashland Eagles in the semifinal matchup at Ashland on Saturday, March 5.
The Bulldogs lost to Ashland 57-51 in their only meeting against the Eagles earlier this season on Dec. 5, 2015.