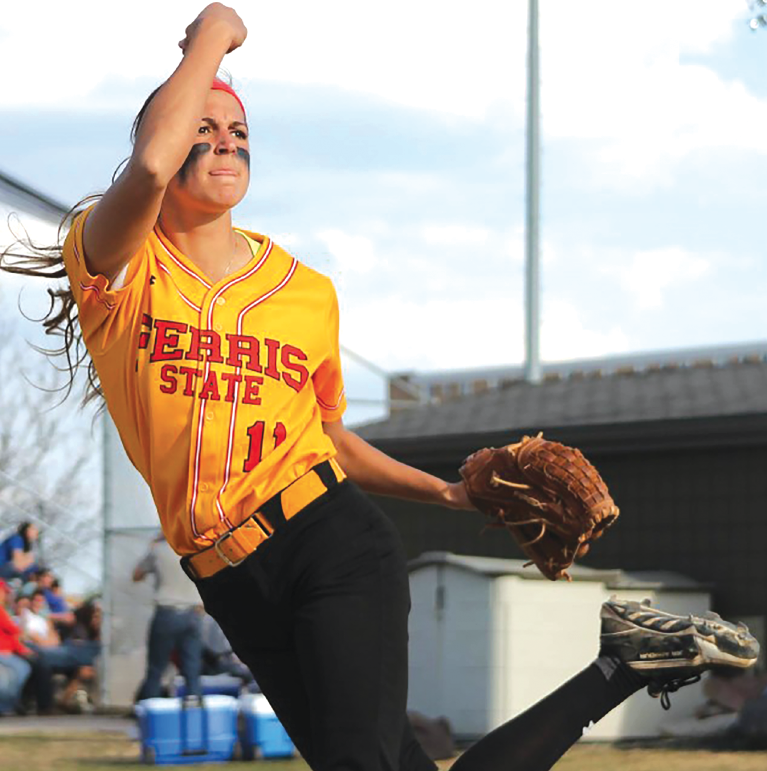 The first time I threw a pitch in a game was the first time I threw a pitch… ever.
I was 10 years old and I played for the Green Gators. I remember we were getting beat pretty bad and our pitcher had walked probably eight girls in a row. My mom, who was my coach at the time, turned to me and said, "Wanna give it a shot, Meg?"
I was a shortstop at the time (you wouldn't know from my fielding now), but I figured hey, why not? I ran out to the mound and gave it a whirl. I guess I did okay, because from then on, the circle was my home.
As I have gotten older, my relationship with my position has been a rocky one. Some days I curse my mother for throwing me in that game when I was 10, but sometimes I'm happy she did. Pitching is definitely the most stressful, yet rewarding position in softball and baseball.
I have always had a hard time dealing with the blame. When your team loses a game, it doesn't say in the write up "losing shortstop" or "losing center fielder," it says "LP: Megan Hiler" Literally, it says that. Losing pitcher, Megan Hiler. Seeing that after every loss was like a personal slap in the face. I know, you win as a team, you lose as a team.
Yet when you give up a bomb over the center field fence, people aren't saying "Hey, their first basemen blows, they should take her out." But they are saying, "Wow, that pitch was right down the pipe, Hiler needs to come out." And I always had trouble with that.
I've been called names from "Slingshot," "Legs" and "Meg11," to "Scrawny," "Sticks" or "Little Meggy Hiler." But probably the nickname I have been called most in my life is "God Dammit Hiler." Has a nice ring to it, eh?
My coach in high school was the best coach I have ever had. Denny Dock. He is a Hall of Fame football coach that coached softball, too. Coach Dock treated us like football players. He didn't care that we were girls and what not; he held us to the same standard. That guy knew what he was doing and he knew how to coach. He is a legend in Southwest Michigan. And boy, did he have some good one-liners.
One day when I was pitching, I threw a garbage curve ball. The hitter smashed it back up the middle, right into my shin. I went down. I could hear Coach Dock screaming at me from the dugout to throw her out, but I was down for the count. Coach then comes out and says to me, "Hiler! Are you okay?!" I tried to stand up, wobbled a bit and said, "Yeah, coach, I just need a minute," being the tough chick I was. Then, I kid you not, he yells to me, "Well god dammit, Hiler! If you didn't throw it there, that wouldn't happen!" I wiped my tears away, flashed the thumbs-up and nodded. Classic.
I could go on for hours about Coach Dock. Great coach, smart man and downright hilarious when I was in the dog house. Once, he just gave me his watch and told me run and to come back in a half hour because he couldn't deal with my jokes anymore.
Pitchers are held more accountable by coaches as well and from day one, that was the case for me. You're in the middle of the field, so by default, you're a leader. The game doesn't continue until you throw the ball.
It is also the position that requires the most work. All athletes know the term "no days off" or "on that grind" but for us, it's vital: pitchers can't take days off. I remember the days in high school when I would get done with basketball practice and go straight to pitching. There were definitely times where I thought, "Man, I should have been an outfielder" when I was jumping off the rubber a million times with legs that felt like Jell-O from the basketball court. It would have saved my poor dad some bumps and bruises from pitches that went awry or one hoppers he took off the legs catching for me. Shout out to Todd Hiler, you rock and thank you.
But I can't even explain to you the feeling you get when you throw a good pitch. It's addicting. Throwing a perfect drop ball that falls right off the table as the batter whiffs, spinning a change up that makes her swing out of her cleats or throwing the perfect pitch in the right spot and freezing the batter—there's nothing better.
When I was a sophomore in high school, my school was playing in the state championship game. We had won the previous year, so we were defending our title. I was playing in right field and we were winning 2-1 in the bottom of the seventh. Our senior pitcher was throwing a great game, but you could tell she was getting gassed in the June heat after throwing so many innings. I can still see Coach Dock coming out to the circle and pointing at me to come throw. My legs felt numb as I ran into the infield. There was one out and a runner on second—the tying run. I came into the infield meeting and Coach was telling us what to do in the situation. I think, honestly, I was so high on adrenaline and so nervous that I don't remember one word that man said. Just give me the ball and let me toss it in there.
First batter grounded out to the third baseman, our girl made a great play and threw her out just in time. Runner was now on third. This was the stuff movies were made of. I was shaking in my cleats when I somehow got the count to 2-2 (to this day this is my favorite count to pitch in) and I saw my catcher flash three fingers, then one. This meant a rise-ball up and in. My bread and butter.
I tucked three fingers and had two on the seams and reared back and flew off the mound. I was going to blow this by her and make her look silly. Time seemed to stand still when I realized I released the ball wrong. It was completely flat and quite honestly, the worst excuse for a rise-ball I have ever thrown. It was right up the gut.
But for some unknown reason, the girl didn't move. She watched the ball into the catcher's glove. In shock, I looked at the umpire and saw him hold up his fist. My god, she didn't swing, and we won! I threw my glove and jumped into my catcher's arms. To this day, I don't know why that girl did not swing, but I am thankful for it.
When people ask me what position I play, and I respond with "pitcher," they always get a surprised look on their face. Then it's usually followed up with, "Doesn't it hurt your arm to throw like that?!" The answer is no, it doesn't. Maybe it's because I've done it for so long.
I can't imagine my life without pitching. It brought me to Ferris State. It made me a Bulldog. It made my former enemies my new teammates and best friends (shout to SJ, I literally hated you in high school—Go Lancers). Softball has brought so many amazing people into my life. All my best friends have been teammates. You bond over the long bus rides (especially in college), the pit stops at hole-in-the-wall restaurants on road trips and grueling practices. You become closest with the girls that volunteer to catch for you, the ones that pick you up after a bad outing or the ones that you have special handshakes with when you get that strike out. Softball teammates are the most supportive and selfless people out there; we genuinely want to see our teammates make a great play and succeed.
Playing this game has taken me across the country. You live for the dirt under your fingernails, the uniform tan lines and the different bows you wear for different games. I wear the same bow until we lose, then I change it. Pitchers are weird, I know.
As a pitcher, a lot of time is spent perfecting pitches, which means critiquing your motion, grips and mechanics. It's a lot of work with catchers giving you feedback. It's trial and error, and after pitching for over a decade, including two state championship teams and two years in college, I can say without hesitation, it is mostly error. You have to throw a few fat pitches, take a few hits off the shins and give up a few homers to really learn. Sometimes, it sucks. That's why a pitcher's favorite and most common question he or she asks their catcher is, "Did that move?" And you know you threw a dirty piece of cheddar when the catcher says, "Oh yeah it did."